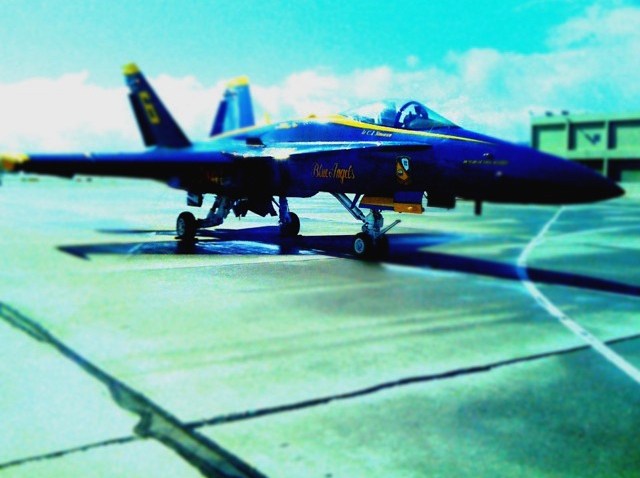 Like so many other kids who have looked at the sky in wonder, Ben Walborn grew up with dreams of flying. The son of a Pennsylvania National Guard pilot, he was exposed early and often to the flying bug.

These days, when Walborn looks at the sky, it's ripping past his cockpit at six hundred miles an hour. He's now the lead soloist for the Blue Angels precision flying team.
"The moment I get airborne and the canopy shuts," said Walborn standing near his Number 5 jet, "it's like everything else in the world goes away and I'm flying."

Flying is in Walborn's blood. He's the last of four brothers to become Navy pilots.
This week, the view from the native Pennsylvanian's cockpit has been the San Francisco Bay, as the Blue Angels perform for the 30th annual Fleet Week.

"I'll never get to do anything else where you're flying across the Golden Gate Bridge," he said. "It's insane to look down and see the city right there."

Despite rainy skies on Wednesday, the team held a practice session over the Bay. The thunder of the FA-18 Hornet engines pulsed across San Francisco -- the team's signature calling card.

Along the waterfront, sailors in crisp uniforms spilled from the Navy amphibious assault ship, USS Bonhomme Richard docked near Pier 30. At the Marina Green, Rich Wall and a group of friends gathered for the 20th year to watch the Blue Angels practice. Wall was glued to a scanner broadcasting the team's radio chatter.

"The sounds of them, it's tremendous," said Wall. "The precision that they fly with, you can't see it anywhere else." A thick wall of rain eventually sent Wall and his pals scrambling for cover. But Wall vowed to return for the Angels late afternoon practice.

Though the Navy pulled out of the Bay Area years ago, it's naval displays still draw thousands of visitors to San Francisco. Thirteen Navy ships were scheduled to cruise into the Bay for Saturday's Parade of Ships. Many will be open for public tours from Saturday through Monday. Along with the Blue Angels, the Canadian Snowbirds and a half a dozen other aviation teams were scheduled to take part in the weekend's air show.

Though there are plenty of options, the crowd favorite remains the famous blue jets ripping across the sky. For Walborn, the color becomes irrelevant once he straps himself into the cockpit and grabs the controls.

"You really don't have much time to look back and go 'hey I'm flying in a blue jet,'" Walborn said. "It'll probably be much more bittersweet after my last flight in a blue jet."