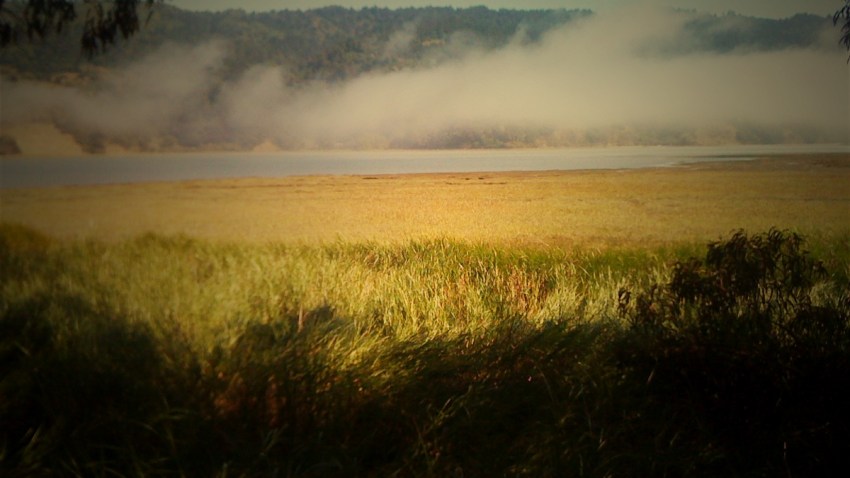 When oil from the 2007 Cosco Busan oil spill began drifting into the Bolinas Lagoon in Marin County, residents took matters into their own hands.
They attempted to stretch a boom across the mouth of the lagoon, straining to try and stop the surge of oil. The oil came anyway.
Despite the failure of the herculean effort, the response demonstrated the locals passion for their lagoon.
"There's a big consciousness about the lagoon," said Bolinas resident Bruce Bowser. "There always has been."
For over a decade, plans have been in the works to restore the lagoon – to turn back years of man-made damage. Today those plans became action.
In an afternoon ceremony, Caltrans kicked off a roadway project on Highway One that signals the first phase of an exhaustive restoration of the estuary. Caltrans is making repairs on two miles of Highway 1 that border the lagoon. It will create a 4,900 foot rock slope along the edge of the highway to guard against wind and water erosion. It will also pave 14 traffic inlets along the road to keep silt and sand from draining down into the lagoon.
"If there's anything in the design we can do to help with the protection of the environment," said Caltrans regional director Bijan Sartipi, "that is also part of our goal."
The Bolinas Lagoon restoration plan was formally adopted in 2008. The Gulf Of Farallones National Marine Sanctuary, which oversees the inlet, also plans to remove non-native species and plants during the next phase of the project, scheduled to begin next year.
"We're looking at reversing all these negative trends and restoring it back to a more healthy state," said Gulf Of Farallones director Maria Brown.
Brown said the decline of the lagoon began in the late 1800s with logging, development and road building in the area. She said non-native plants are killing native plants, while rising layers of silt are preventing ocean waters from entering the lagoon.
"The flow of waters is being choked in certain areas," said Brown. "We're seeing changes in the species – non-native species entering the lagoon."
Part of the restoration will also include oil spill response. Since the Cosco Busan spill, Federal agencies have staged drills to train local agencies and community members on how to deploy booms across the mouth of the lagoon.
"Now there are actually committees that are planning and working on what will be done should another disaster like that occur," said Bowser.
The 11,000 acre lagoon is home to hundreds of animals, including several endangered species. When the tide rolls out, its mudflats become a playground for sea birds and harbor seals.
To Bowser and other neighbors, it's a magical place that needs saving. "I recommend to anyone, if they can, at some point in their life live near a body of water," said Bowser." It's constantly changing, it's blue, it feels wonderful."