If you're thinking dogs can't fly, think again. At least a pair of cop canines did after being suited up in safety vests and goggles zooming about the clouds in a CHP chopper.
Typically, these maritime dogs are sniffing around the shores of the Bay Area. But last Friday, the U.S. Coast Guard Maritime Safety and Security Team joined the California Highway Patrol Golden Gate Division Air Operations Unit in Napa for routine training exercises. Instead of patrolling the sea, they took to the skies.
According to Maritime Enforcement Specialist First Class Christopher Hartman, the dogs complete this training every four to six weeks. Evy, an 8-year-old Belgian Malinois dog and Feco, a 2-year-old Vizsla, are completely used to this training by now, he said, and don't get rattled flying high above Earth.
Hartman said the training helps the dogs stay up to date with the exercises and shows the officers the dogs are able to do their jobs sniffing for any explosive devices in terminals, cruise ships, adjacent waterfront facilities, etc.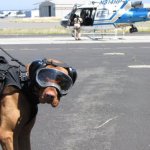 In one of the exercises, the CHP helicopter lifted the U.S. Coast Guard K-9 Team, K-9 handlers and their dog partners from the ground without any hesitation.
Hartman said that the dogs are used every day in anything related to the water and sea, but also are used in high-profile events like sniffing for bombs before the president visits, or the dugout at AT&T Park in San Francisco before the Giants play the World Series.
As for the Oracle Arena in Oakland, the dogs won't be in sniffing the hallways to make sure Warriors guard Steph Curry is safe. But they will be roaming about during Fleet Week in October and at Levi's Stadium in Santa Clara protecting 49ers fans during football season.