Authorities in Union City have arrested two suspects in the slayings of two boys last fall outside a local school, according to the Union City Police Department.
Jason Cornejo, 18, of Castro Valley and a 17 year-old juvenile from Hayward have been charged with the murders of Kevin Hernandez, 11, and Sean Withington, 14. Both suspects were already in custody on unrelated charges, police said.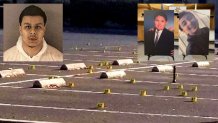 Withington and Hernandez were gunned down about 1:30 a.m. Nov. 23 while they were inside a van in the parking lot of Searles Elementary School on Sherman Drive.
The suspects were involved with a known street gang, police said, but a motive in the slayings still wasn't clear.
There are other people of interest in the case, and more arrests could come, police said.
The department has spent "countless hours and resources to bring justice to the families of the victims and closure to the community," police said.
Authorities served search warrants at six different East Bay locations, including four properties within the Alameda County Sheriff's Office jurisdiction, one property in Hayward Police Department's jurisdiction and one location in Richmond Police Department's jurisdiction, police said.
The search warrants recovered about 40 pounds of marijuana with a street value of $32,000; about 8 pounds of methamphetamine with a street value of $28,000; more than $10,000 in cash; two handguns; three assault weapons; several high-capacity magazines of ammunition; and other pieces of evidence related to the double slaying, police said.
Copyright BAYCN - Bay City News