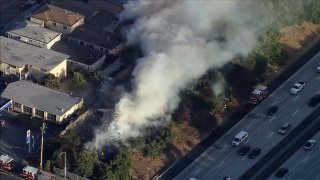 Firefighters late Thursday said they have contained a brush fire that burned along westbound Interstate 580 in Oakland.
The blaze at 35th Avenue drew a three-alarm response, with crews from the Alameda County Fire Department, Hayward Fire Department and the Fremont Fire Department providing mutual aid in the area.
Some structure damage has also been reported, firefighters said.
Firefighters during the response requested residents avoid the area.
This is a developing news story. Stay tuned for updates.