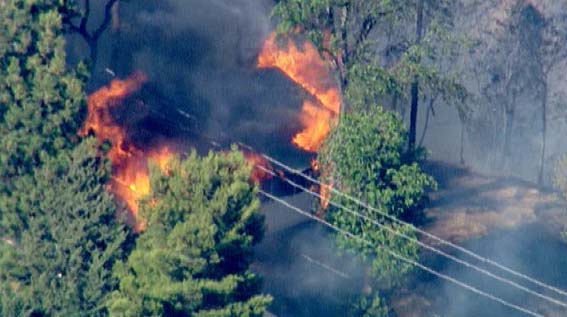 Evacuation orders for most mountain communities were called off Thursday as nightfall brought calmer winds and cooler temperatures to the Santa Clarita-area where firefighters continued to battle a 1,000-acre blaze.
Updated Article: Hot, Dry, Windy Conditions Expected Friday
A limited evacuation was ordered Friday morning in the Green Valley community.
The fast-growing brush fire near San Francisquito Canyon and Clearwater Canyon (map) was reported about 3:30 p.m. and had grown to consume about 1,000 acres by 7 p.m., according to the Los Angeles County Fire Department.
Dubbed the Powerhouse Fire, the blaze burned near homes and power transmission lines and forced road closures.
It is burning uphill in steep terrain covered in heavy brush and chapperal north of Santa Clarita, about 50 mph northwest of Los Angeles. The fire consumed about 150 acres by 4:30 p.m. It grew to scorch 400 acres by 5:30 p.m. About half an hour later, that figure was revised to 600 acres.
San Francisquito Canyon Road is closed at Copper Hill Drive, where the roadway begins in a suburban development, according to the California Highway Patrol. San Francisquito Canyon Road is expected to remain closed Friday.
Evacuation orders for about 200 homes south of San Francisquito Canyon and Spunky Canyon were lifted at 10 p.m., according to a U.S. Forest Service official.
Residents in the small community of Green Valley were ordered to evacuate earlier in the day, according to the U.S. Forest Service.
An evacuation center was set up at Marie Kerr Park located at 39700 30th St. in Palmdale (map). Large animals that need to be evacuated can be taken to the Antelope Valley Fairgrounds
Search and rescue copters were looking for possible hikers in the area of the fire, the LA County Fire Department said in a tweet published about 7:30 p.m.
A hiker who was not in distress or danger was spotted about 3 miles west of the Green Valley Ranger Station. Crews were searching for many as eight other hikers and all of them have been accounted for, according to an official on the scene.
A trailer or shed caught fire near cluster of giant water lines that bring aqueduct water into the Los Angeles Basin. It was not immediately clear if the blaze affected high-voltage lines in the area.
Customers with Los Angeles Department of Water and Power had not experienced water or electricity outages as of Thursday evening. LADWP said it is closely monitoring the fire and routing its electricity around the blaze, the utility said in a tweet.
Southern California Edison also has crews on scene.
Aerial video of the fire showed flames moving toward power lines, and a large water distribution facility appeared to be nearby. There are structures in the vicinity of the fire, according to a Forest Service spokeswoman.
Temperatures in the area climbed into the high-80s Wednesday afternoon and humidity is about 31 percent. Wind gusts could reach up to 26 mph near the fire, according to the National Weather Service.
At least 500 personnel from the U.S. Forest Service and Los Angeles County Fire Department are battling the fire.
In a news release, LADWP said the Powerhouse Fire was first spotted by a power plant station operator burning north of Power Plant 1 near San Francisquito Canyon Road.