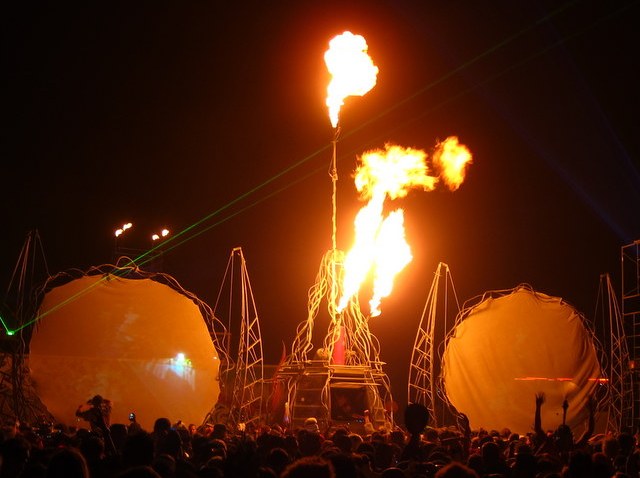 The dust has settled in Nevada's Black Rock Desert as the 26th
annual Burning Man festival has come to an end and many Bay Area residents are returning this week to mundane life at home.
The desert festival, which began Aug. 27 and ended Monday, saw
tens of thousands descend into the makeshift city on the "playa," which is an ancient dried lakebed in the desert, filled with art exhibits, costumes, music and campsites.
Black Rock City LLC, which puts on the festival, focuses on a
theme for the annual desert gathering, with this year's named as "Fertility 2.0."
The organizer is based out of San Francisco's Mid-Market
neighborhood and works with the Black Rock Arts Foundation, which several Burning Man founders and producers created as a public art organization.
Although the week in the desert has wrapped up, "decompression
events" in the coming weeks and into October give attendees and those who missed out another chance to celebrate a Burning Man-like day.
Several regional Burning Man chapters in California will be
hosting the annual fall follow-up party, with so-called "burners" holding events in Santa Cruz, the South Bay and San Francisco, where a daylong street fair will take over Indiana Street in the city's Dogpatch neighborhood on
Oct. 7.
According to regional chapter websites, in Santa Cruz the
"UnScruz!" will be held on Sept. 30 near Harvey West Park, while a Los Gatos event is being planned for October to unwind from the summer festival.
North Bay and Monterey burners also traditionally hold
decompression and other Burning Man festivities in their respective regions.
Festival attendees attest to the indescribable experience of
living in the Nevada dust and heat for a week with limited bathing, getting to know fellow attendees, letting go of everyday worries, and taking in larger-than-life art exhibits.
Potrero Hill resident and freelance web designer Thomas Hundt
attended this year's desert gathering, his sixth visit to Burning Man since 2000.
He described a strong community vibe amongst fellow campers who
set up tents or RVs along the playa where money is rarely used and cellphones, computers and other gadgets are packed away.
"You learn about yourself," he said about the event.
Hundt came somewhat prepared with fun costumes that lit up and
plenty of silly hats, but mentioned attendees and artists who develop elaborate art pieces and costumes.
To get around the vast desert space, people ride bicycles, walk or hitch a ride on "art carts," which are created to look like anything but a car. Hundt said he rode in vehicles that were made to look like a mouse, a fish, a boat, a rocketship and other "mutant vehicles."
"It's so huge you can't see the whole event if you spent all 24
hours of every day looking," he said.
He highlighted large-scale art installations that artists had
erected with much planning and effort prior to the festival, including a life-size temple made of laser cut wood pieces.
The temple is part of a series of "burns," or bonfires, held on
the playa in which a huge constructed man is burned -- the festival's namesake -- along with other effigies and structures.
"Every night toward the end of the week there's some sort of
burn," Hundt said.
Tickets to attend, which were sold via lottery earlier this year
to quell scalping and other ticketing problems from past years, ran up to $350, according to festival organizers.
Back in the Bay Area this week, remnants of the week in Nevada are being washed away, most noticeably from cars that traveled the more than 700 miles to Black Rock City, Nev., and back.
The Divisadero Touchless Car Wash on Divisadero and Fell streets
posted a sign this week that Burning Man car washes would be $55 instead of the basic $22.95 washing deal.
A cashier at the car wash said the car wash facilities were caked
with mud. She said, "you can tell by our floor" that Burning Man just wrapped up.
Copyright BAYCN - Bay City News