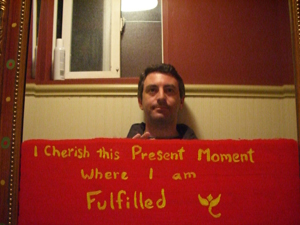 The cult that is Cafe Gratitude is spreading its teachings down south.

In the land of silicon -- the other type of silicon -- the organic restaurant popular with vegans and hippies alike is reportedly heading to Hollywood.

Grub Street reports that posters teasing the cafe's opening have already gone up at Larchmont Boulevard and Melrose Avenue.

The cafe has developed a cult following in the Bay Area and a cult of opposition following an East Bay Express expose where former employees claim they were forced to attend self-help philosophy seminars to work at the restaurant.

Cafe management said the seminars were not required but were simply suggested to foster "a better work environment." Other critics lambaste the names of the food served at the cafe. For example Los Angeles has already latched onto the "I Am Fulfilled" salad and the "I Am Passionate" pizza.

For all its critics, the cafe has expanded since it first opening, even spawning a Mexican offshoot earlier this year.