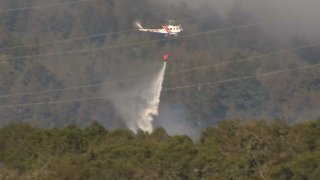 Cal Fire crews Friday morning knocked down a small brush fire in Santa Cruz Mountains near the Huddart Park area of San Mateo County, fire officials said.
Access to the Canada Fire by the ground was limited due to steep terrain, and Cal Fire launched a helicopter to respond to the scene while some ground crews tried to reach the fire on foot, officials said.
The fire, near the Toyon Campground, was under an acre in size as of 9 a.m., and firefighters were able to contain it to a 50-by-50 feet area. Smoke was first reported at 6:08 a.m., officials said.
Huddart Park was closed at least for part of the day because of the fire and response, officials said.