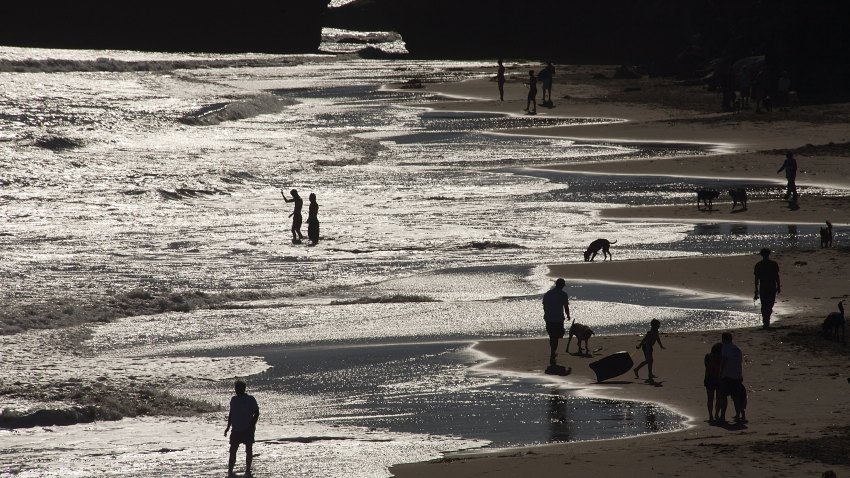 With severe beach hazards predicted in San Mateo and Santa Cruz counties through Saturday morning, Cal Fire is offering tips to help beachgoers stay safe.
"Buddy up, never take your eyes off the ocean, don't go in after a dog swept out to sea, don't access a beach with only one way in and one way out, and if you get in trouble, call 911," said Jake Hess, a deputy chief with the Cal Fire San Mateo - Santa Cruz unit.
"Buddy up" means that people should go to the beach with friends or family.
"When you are in the water, even just up to your knees, we recommend you have a friend or family member keeping an eye on you," Hess said.
Also, beachgoers should never take their eyes off the ocean, he said. So-called "sneaker waves" can crash down when least expected.
Should your dog or other pet get swept out to sea, don't attempt to rescue it, Hess said.
"Dogs usually self-extricate," the deputy chief said.
"Unfortunately, a lot of people lose their lives going in after a dog. They go in with their boots, shirts, pants on."
"We get it - dogs feel like family members, but dogs have the skill to tread water and find safety. Do not go in after pets," Hess said.
Beachgoers should stay alert and choose beaches with more than just one way out. Tides can come up quickly and block an exit, Hess said.
Finally, if something goes awry, "Utilize 911 so we can get our trained folks on the scene," Hess said.
Copyright BAYCN - Bay City News