Daniel and Joanne Azarnoff had the quintessential, grassy green lawn outside their house in the San Francisco Bay area -- until this bone-dry summer.
With the help of the Solano County Water Agency, they ripped up turf and replaced it with a mix of slate, stones, redwood mulch and drought-resistant plants more suitable to Rio Vista's Mediterranean climate.
"We did it because California has a drought, and we thought it would be a good way to reduce the amount of water which we use," Daniel Azarnoff said.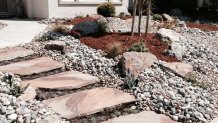 Their decision is one California officials wish more residents would make. Communities and water agencies across the state have been paying to encourage homeowners and businesses to replace grass with more appropriate and less thirsty plants. Now, with California in its third year of a severe drought, the so-called "cash for grass" programs are bursting in popularity, if still small in size.
In the city of Long Beach, about 1,500 homeowners have taken advantage of the 4-year-old program there, which pays $3.50 per square foot — but that is out of the owners of about 60,000 single-family homes.
"A lot of people love their lawn," said Joyce Barkley, the city's water conservation specialist. "It's a challenge."
Instead of grass, Barkley tries to interest residents in sages, blue fescue, lion's tail, lilacs, lavenders, olive trees and other drought-tolerant plantings.
The hope is that other homeowners will imitate the gardens made up of plants that thrive in Long Beach's annual 12 inches of rainfall, rather than lawns that need seven times that amount, Barkley said.
Water-greedy irrigation
In many ways, Californians do well conserving water, with most of the state's water going toward irrigating crops, said Hadley Arnold, executive director of the Arid Lands Institute at Woodbury University in Burbank.
One exception? Lawn irrigation. In Los Angeles, 54 percent of residential water consumption is used outdoors, according to the 2010 Urban Water Management Plan from the Los Angeles County Department of Public Works. Add in commercial, industrial, governmental and multi-family consumption and that number is 39 percent.
Homeowner's Drought-Tolerant Landscaping Results in Fine
"Where we're still water-greedy is irrigation," she said. "You can irrigate with recycled water."
At least 26 water agencies across the states are offering rebates for turf replacement, according to the Association of California Water Agencies. There has been a surge of interest this summer, said Lisa Lien-Mager, the association's director of communications.
The number of applications for turf removal that the Metropolitan Water District of Southern California has received since January is nearly double the total number over the last five years, the district says.
In July, it got requests to remove 2.5 million square feet of turf — the equivalent of 1,665 typical front yards, and up from 99,000 square feet in January.
The increase from businesses was even more significant: 4.7 million square feet, or the equivalent of 82 football fields, up from 22,000 square feet.
[LA GALLERY] PHOTOS: SoCal Drought Shaming
In May, the district, a cooperative of cites and water agencies serving nearly 19 million people, doubled its rebates from $1 to $2 per square foot for consumers and businesses.
Nurturing wildlife, conserving resources
Water restrictions put in place as a result of the drought have left lots of dead lawns and have prompted homeowners to think about what to do with a much more limited water supply, said Bart O'Brien, director of the Regional Parks Botanic Garden in Berkeley.
"Everyone has taken water supply pretty much for granted until this unprecedented, longer, drier drought than we've had in historic times," he said.
Gardeners are taking new interest in native California plants, which not only use less water but also can help sustain insects, birds, lizards and other wildlife that have become endangered by the loss of natural areas.
"Through the act of thoughtful gardening, we can make a rather significant difference," said Carol Bornstein, the director of the Nature Gardens at the Natural History Museum of Los Angeles County.
The Solano County Water Agency's program is four years old, but 65 percent of its 282 participants signed up in the last fiscal year, according to the agency. Since July, 56 projects have been completed, saving on average 25 gallons a year per project. The program pays $1 per square foot for up to 1,000 square feet for environmentally friendly landscaping.
[[273210221, C]]
Lara Remitz is a landscape architecture student at the University of California, Davis, who has been working with the Solano County program to help residents replace their lawns.
"I think it's opening up a lot of people's eyes especially right now," she said. "It helps people understand that there is an issue with water."
But she has noticed that some homeowners still leave a patch of dirt that they plan to return to lawn if the drought eases.
[[ 246934731, C]]
"There's still a large resistance to the idea," she said.
In Rio Vista, the Azarnoffs are happy with their new landscaping. They had liked their lawn, but it was maintained by a sprinkler system, Daniel Azarnoff said. By switching to a drip system that targets only the plants, they are using much less water, he said.
"And it still looks very beautiful," he said.