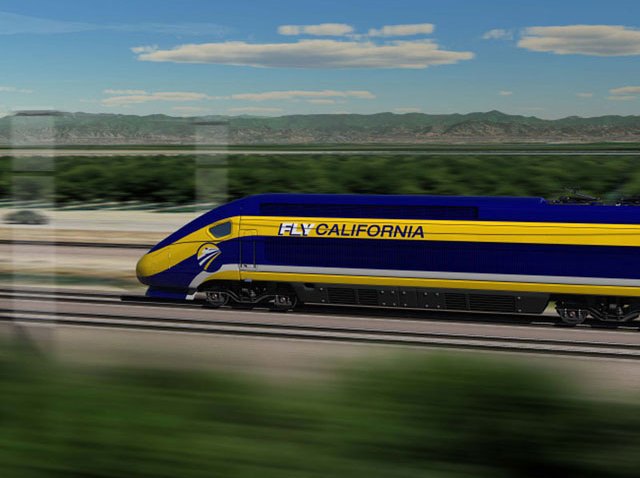 What's going on with California's High Speed Rail project?
The system's Chief Executive Officer, Roelof van Ark, announced Thursday he was resigning from his $375,000 a year post after only 18 months on the job. Van Ark expressed optimism about the future of the project just a few weeks ago, telling the Sacramento Bee, "We're on the right path to get there."
Now van Ark is stepping down, telling the project's board members at a Los Angeles meeting that he wants to focus more on his family and other issues.
The Authority's board chairman, Tom Umberg, is also stepping down. and the system's press secretary, Rachel Wall, is also leaving for another public relations job.
Gov. Jerry Brown has shown no sign of second thoughts on the $100 billion dollar project, having appointed two trusted advisors to the board to develop a credible business plan. Brown is convinced that construction jobs and "big thinking" are reasons to move ahead.
The changes appear to be part of a continuing makeover by the governor. Opponents and supporters will be watching closely next week to see what he says about high speed rail during his state of the state address.
At the Capitol, lawmakers are making louder noises about their opposition to approving financing to begin construction on the first leg of the project. Some legislators want to place another measure on the ballot, asking voters if they too are having second thoughts. California voters approved a $10 billion bond in November 2008 to start the process.
The high speed system is initially projected to cost about $50 billion, but the recent business plan doubled that estimate.
Public and political opposition has grown, even as one large public relations firm walked away from the project.
Amid this turmoil, finding a new CEO for the troubled project is going to be a tall task. It's not just a matter of defending the project. It's a matter of stopping the bleeding. Otherwise, this will truly be a train to nowhere.
Let us know what you think. Comment below, send us your thoughts via Twitter @PropZero or add your comment to our Facebook page.