Jason Johnson, a junior at Antioch's Deer Valley High School, has overcome a lot in his young life. The sixteen-year-old, who plays two sports and is thriving academically, has his sights set on the University of Oregon. But Jason's path to college hasn't been easy. He has a learning disability, struggles emotionally, and sometimes battles depression. He's watched his older brother cycle in and out of jail, and as a middle school student, Jason was hit with four separate juvenile citations for fighting and making threats. Each of those citations is equivalent to an arrest, leaving Jason with a criminal record.
"That's not how you get to a child," Johnson said. "If I was really a problem then they could have actually got me help, actually got counselors there to actually talk to me and help me."
New Legislation Follows Investigative Unit Series
About 43 percent of public schools have security personnel or a law enforcement officer on campus at least once a week, according to the National Center for Education Services.
A nearly two-year long NBC Bay Area investigation, however, revealed schools call the police on black students and children with disabilities at disproportionately higher rates than their peers.
Nationally, black students are about 3 times more likely to be arrested than white students. Children with disabilities are also 3 times more likely to be arrested compared to their peers.
Following the series of Investigative Unit reports, California Assemblywoman Shirley Nash Weber (D-San Diego) is now proposing legislation that would require school districts to define the role and responsibilities of their campus based officers.
"I've seen situations where young children have been handcuffed and put in the back of police cars simply because they didn't want to go to class and they were seven years old," said San Diego Assemblymember Shirley Nash Weber, a lifelong educator and author of AB 163. "You can imagine the impact on the life of a child, who in this case was a kid whose father is in jail and he was in foster care. So you begin to teach them early that this is what's going to happen to you."
Weber's bill prohibits schools from using police officers to deal with minor misbehavior and would require schools that place officers on campus to have a written agreement outlining the specific roles and responsibilities of those officers. For infractions such as vandalism, drug use or disruptiveness, the legislation would require counselors to handle those situations rather than police officers.
"I did not come here to cite kids and throw kids in jail," said Jeff Godown, chief of police for the Oakland Unified School District, which already has a comprehensive agreement with law enforcement to detail the duties of campus officers.
"The police should be called if it's a violent crime, when there's a safety issue, when they've exhausted all their efforts that they have at their disposal at that school before we show up on the scene."
Godown said requiring schools to outline the responsibilities of their campus officers protects students and law enforcement.
"It gives us guidelines so that we're all on the same page," he said. "A lot of these kids just want to be loved and a lot of these kids just want to be cared for and they don't need a cop showing up and throwing another citation."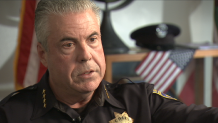 National Investigation
The Investigative Unit recently partnered with NBC News and NBC affiliates across the country to examine how the nation's more than 95,000 public schools utilize officers on campus.
According to U.S. Department of Education data, 17% of California schools have officers on campus, but how they're used varies widely. NBC Bay Area's investigation found nearly 230,000 students in the Bay Area attend a school that doesn't define the roles or responsibilities of their campus officers, something that would be required under Weber's legislation.
Weber said the over reliance on police officers to handle school discipline issues can knock students off the path to college and into the school-to-prison pipeline.
"We're talking about peoples' lives," Weber said. "We're talking about children. We're talking about my grandkids. We're talking about the future of California and this nation."
Weber is also talking about students like Jason, who's had more interactions with police before he reached high school than many have in a lifetime.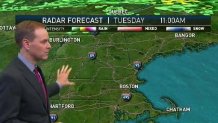 Fighting Against the Odds
NBC Bay Area's investigation found students like Jason, a black teen with disabilities, are 16 times more likely to be arrested at school than white students without disabilities, and four times more likely to be arrested as white students with disabilities.
Jason now worries about the impact his middle school arrests will have on his future.
"Oregon is going to be looking at my record and they're going to be like, 'dang, this kid had the police called on him in middle school, why would I want him in my college?'" Jason said.
Antioch Unified School District did not respond to multiple requests for comment. The NAACP sued the district last year for failing to address civil rights violations against black students.
Nationwide, schools called police on their students more than 200,000 times during the 2013-2014 school year, according to federal data. At least 43% of those students attended an elementary or middle school. Jason's mother, Sandra Simon, insists school counselors and administrators should intervene before calling the police on young children and teenagers.
"It was unfortunate, but it happened," Simon said. "He got into some trouble and I felt like it could have been handled differently, as far as maybe a counselor or some kind of mediation. Instead, the police were called on him and we were totally blindsided by it. We were sitting in a conference room talking to the principal and here comes the police."
Jason's older brother, Jaylen, was born with developmental disabilities and was unable to dodge the hurdles that Jason is still struggling to overcome. She remembers how trouble at school soon turned into trouble with the law for Jaylen, who has since been in and out of jail.
"The police was always called on him at school," Sandra said. "He was always suspended."
Simon worries Jason's interactions with police at school might send him down a similar path.
"That's why I push him as hard as I do," she said. "I don't want him to be the kid that gives up."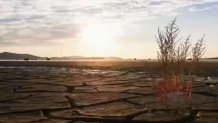 Although Jason has largely been able to duck trouble since heading off to high school, he says those incidents with police are still on his mind today. Jason said it is still difficult for him to trust police officers or people with authority after being treated like a criminal at such a young age. Jason believes schools should only rely on police officers as a last resort.
"Sit the kid down and really talk to him," Jason said. "Make the kid feel comfortable with you. Make him actually fell like you're not trying to bring the law down on him. Actually talk to him, build a relationship, not just call the police every chance you get."
Simon said she is proud of her son for overcoming the obstacles in life that left him angry and emotionally scarred, but believes teens like Jason continue to face serious difficulties.
"By him being a young black male, you worry about the streets and him getting caught up in it," Simon said. "Him going to jail or getting killed – you worry about that. I go to bed every night and I thank God that we made it through the day."
. . . . . . . . . . . . . . . . . . . . . . . .
Watch Part 1 of this NBC Bay Area Investigative Series:
Watch Part 2 of this NBC Bay Area Investigative Series:
Watch Part 3 of this NBC Bay Area Investigative Series:
Watch Part 4 of this NBC Bay Area Investigative Series:
Watch Part 5 of this NBC Bay Area Investigative Series:
Watch Part 6 of this NBC Bay Area Investigative Series:
Watch Part 7 of this NBC Bay Area Investigative Series:
A National Perspective
Justice in schools across America is not color-blind. In almost every state and in thousands of school districts, black children are disciplined far more often than other children.
Black kids are twice as likely as other children to be expelled, nearly four times as likely to be suspended from school and almost three times as likely to be arrested – an event that can haunt them for years.
Children with disabilities, particularly black children with disabilities, also are disciplined much more often than children without disabilities.
"It's persistent, pervasive and punishing for kids of color," said Michael Harris, a senior attorney for juvenile justice at the National Center for Youth Law in Oakland, California.
Black children are not more likely to misbehave, just more likely to be punished, said Morgan Craven, the director of school-to-prison pipeline project for Texas Appleseed, a public interest justice center. Her group and others are trying change policies governing how schools discipline student, such as limiting suspensions for young students.
Students of color also more likely to be identified as having disability, conflating the two issues, said Elizabeth Olsson, senior policy associate at the NAACP Legal Defense Fund.
One problem that has come under scrutiny is implicit bias, a bias a teacher or administrator might hold without being aware of.
"It's not the result of someone being racist or being a monster," Harris said. "It's the result of stereotypes they've absorbed by living in this country that they're not even aware they're acting on."
About this data
Policing the Schools is based on detailed reports submitted to the U.S. Department of Education by school districts on enrollment and discipline. NBC examined records from nearly 17,000 school districts across the United States for the 2013-14 school year.
The public can view slices of the data on the Department of Education website.
NBC obtained the entire database from the Department of Education's Office of Civil Rights. We looked for disparities in discipline by race, disability status and geography. We analyzed the data using R, an open-source statistics package often used by social science researchers.
Federal regulations require each district's superintendent or his or her designee to certify that all information they submit is true.
However, the state of Florida had to resubmit its report in October after researchers at UCLA discovered errors; the data in this story includes the corrected Florida data. In addition, four districts told NBC that the reports they submitted to the federal government were inaccurate and provided updated information: the arrest statistics for Mt. Diablo Unified School District in California, the arrest and referral statistics for Topeka Public Schools in Kansas and the Belton school district in Missouri and the referral statistics for the Hawaii Department of Education. Finally, NBC and the UCLA researchers have found what appears to be systematic over-reporting of expulsions among Ohio school districts.
______________________________________
Need to contact our Investigative Unit?
• You can remain anonymous
• 1-888-996-TIPS
______________________________________
Watch the entire series in this NBC Bay Area investigation: