Priscilla Soriano worked 10 to 12 hours a day, six days a week as a caregiver at a residential home for mentally ill clients in San Jose, but never got paid overtime.
"I'm really angry," she told the Investigative Unit. "Why did they do this to me? I don't deserve it."
So Soriano filed a wage complaint and the courts ruled she was owed $64,904.66 in unpaid wages and fees, which she collected.
According to data from the CA Labor Commissioner's Office, wage claims like Soriano's and resulting fees cost California workers over a quarter billion dollars since 2010: $273,952,366.15
That number represents all claims that were ruled on by a court to be legitimate and the resulting penalties and damages issued by the court. $81 million of those unpaid wages were from Bay Area companies.
The entire dataset is available for download here(25mb).
Some of the top Bay Area companies not paying workers since 2010: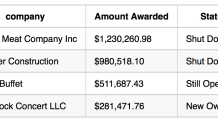 View a searchable database of the top 100 companies not paying workers.
United Meat Company Inc and Draeger Construction have both shut down and have had their business licenses suspended by the Franchise Tax Board.
Bottlerock Concert LLC no longer exists, and the concert, BottleRock Napa Valley, is now operated by a new entertainment group.
The Investigative Unit attempted to contact all of these business owners but they either did not respond or issued "no comment."
Crazy Buffet in Sunnyvale had 18 wage complaints since 2010 and the courts rules workers were owed $511,687.43 in lost wages, overtime and penalties. It has changed its name eight times, but each time comes back to the same Sunnyvale address.
We went to the restaurant to speak with the owner, but no one could tell us how to get in touch with him.
Despite these rulings, workers often times still do not collect that money.
Some businesses ignore the penalties and the judgments, shut their doors and reopen under a different name or file for bankruptcy, leaving the workers high and dry.
This is the case for Miguel Angel Lopez Santiago who worked for a restaurant called Ma's in San Jose and never got paid overtime. He says he was threatened whenever he asked to be paid.
"I was mistreated because they would make us work more time than we should have and we were paid wages that were not sufficient," Lopez Santiago said.
He was awarded $35,267.50 dollars in a judgment, but has yet to see any of that money.
"It's a failure of the fundamental promise of the American dream," Tia Koonse with the UCLA Labor Center told the Investigative Unit. "It doesn't even skim the surface of the dollars stolen from workers up and down the state."
Koonse reviewed wage claim data from 2008-2011 and found the majority of companies ruled against by the labor commission and courts never paid back any wages.
"We were shocked to discover that just 17% of those folks who received final judgments for unpaid wages collected a dime. Which means that 83% had nothing to show for their efforts," Koonse explained.
With no state law forcing the companies to pay the judgments, workers' only option is legal help. For 11 years, Ruth Silver-Taube has run a free labor clinic tackling these issues at Santa Clara University's Katharine and George Alexander Community Law Center.
She calls wage theft an "epidemic," saying, "There's a culture of noncompliance and there' s no consequence if they don't pay," Silver-Taube told the Investigative Unit.
Taube says dodging wage obligations has become a business model; companies simply don't pay even after a court rules against them and keep doing business as usual.
"It's very, very frustrating to me that there's no desire on part of employers to pay these judgments," she said.
Last year Assemblymember Mark Stone and the SEIU pushed for legislation to allow for a pre-judgment lien on companies with wage claims, but the bill was not voted on before the legislative session concluded.
Julie Su, California Labor Commissioner, is now working to fight the problem.
"Wage theft is one of the greatest threats to prosperity and financial security in California today," Su said. "The majority of targets that we hit are breaking the law. We're finding it, we're issuing a citation, and we're getting them to pay."
Su admits the state has a long way to go and she concedes that thousands of workers and millions of dollars in wage theft still go unpaid every year.
"More needs to be done, and we are doing more with the resources we have," Su said. "I think that we can always do better and we are striving to do better."