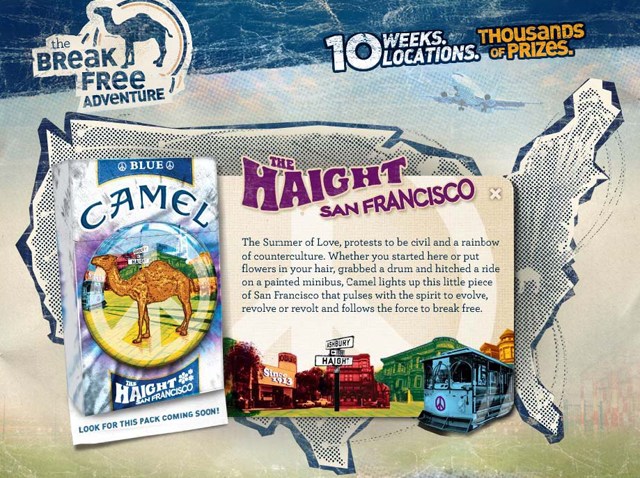 One of San Francisco's most popular neighborhoods is being used to market cigarettes and the City is not happy about it.

City Attorney and mayoral hopeful Dennis Herrera is calling on Camel's parent company R.J. Reynolds to put out a marketing campaign of special edition cigarettes celebrating 10 cities across the country. San Francisco is one of them.

Included on Camel's list is not the City per se, but instead its pushing a limited-edition box that celebrates the history of the Haight-Ashbury neighborhood.

Special edition boxes are also being sold for Seattle, Brooklyn, New York and Austin, Texas through January.

Each special box comes with a blurb celebrating the city, or neighborhood's, independent spirit. For example, the box for the Haight shows a picture of a peace-loving cable car and reads:
The Summer of Love, protests to be civil and a rainbow of counterculture. Whether you started here or put flowers in your hair, grabbed a drum and hitched a ride on a painted minibus, Camel lights up this little piece of San Francisco that pulses with the spirit to evolve, revolve or revolt and follows the force to break free.
Herrera is not alone in his condemnation of the marketing blitz either. A Campaign for Tobacco Free Kids called the promotion "deeply disturbing." The neighborhood is already well known for its head shops.

R.J.Reynolds is of course no stranger to controversy. In the 1990s its popular mascot Joe Camel was put out to pasture after the company was accused of using the character to market cigarettes to youngsters.