Two days after a deadly shooting at a Ford dealership in Morgan Hill, community members gathered Thursday night at a candlelight memorial for the victims and their families.
Brian Light, 59, and Xavier Souto, 38, were shot and killed Tuesday by a recently-fired coworker, who turned the gun on himself after opening fire, according to police. Police identified the shooter as Steven Leet, 60.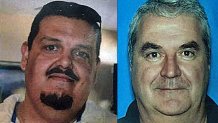 Light and Souto were believed to be supervisors at the dealership. Leet had been fired earlier Tuesday, police said.
When officers arrived at the dealership, they found Leet down on the ground with an apparent self-inflicted gunshot wound and a handgun in his hand, police said. The other two men were found dead inside.
Thursday's memorial took place at the Morgan Hill Downtown Amphitheatre.
A GoFundMe donation page has been created for the families of Souto and Light.
Souto was described as a "loved" husband, father and son.
"Xavier was the main provider for his family and they need all the help they can get in this terrible time," a statement on GoFundMe read.
Morgan Hill Shooting:
Doug was inside the building and was talking with a supervisor moments before he says the man was shot and killed. 2 victims and the suspect are dead.https://t.co/rWnhwyLOq0 #MorganHill pic.twitter.com/dwSoekLlNb

— Ian Cull (@NBCian) June 26, 2019
Morgan Hill PD says three gunshot victims. Says shooter is here but not giving condition. Family members waiting for employees say man was fired. Came back and shot Co workers. @nbcbayarea pic.twitter.com/dGLP30Qns1

— Jean Elle (@nbcjeanelle) June 26, 2019
UPDATE: Ford Store shooting in Morgan Hill.
Three people shot. All are employees. PD won't confirm if they are dead, or if the suspect was shot. "No outstanding suspects." Shooting happened at 6:03 p.m. pic.twitter.com/XE903C0au6

— Ian Cull (@NBCian) June 26, 2019
BREAKING: Shooting at Morgan Hill Ford Store Dealership. PD believes the suspect was recently fired. At least two people shot. Working to get more details.

— Ian Cull (@NBCian) June 26, 2019
Multiple batches of PD flying down 101 south to Morgan hill for the active shooter at the Ford dealership. pic.twitter.com/10h1VxbEbn

— Dyrelh S Villarico (@Dyrelh) June 26, 2019
#MorganHill #police, #Sheriff units and #CHP going through lot at #Ford dealership. Sources say shooting by 'disgruntled' employee or former employee. Victims 'appear' to have been workers but investigation ongoing. pic.twitter.com/vT8xvZw4W3

— Robert Handa (@RHandaNBC) June 26, 2019
#BREAKING: Police swarm Ford dealership in Morgan Hill. Police sources tell @NBCBayArea multiple people have been shot. https://t.co/6jNTLc1EN8 pic.twitter.com/5Es0rldZQK

— Kristofer Noceda (@krisnoceda) June 26, 2019
#CHP officers moving back crowd swarming #ConditRoad in #MorganHill where #police and #Sheriff's Dept investigating possible multiple shooting/ suicide at #Ford dealership. Still considered 'active area' but no more apparent search going on outside Ford lot now. pic.twitter.com/rku3jnGoe4

— Robert Handa (@RHandaNBC) June 26, 2019
Shaken employees leave Ford Dealership in Morgan Hill after workplace shooting. @nbcbayarea pic.twitter.com/XiMVWwd7Lb

— Jean Elle (@nbcjeanelle) June 26, 2019
#Breaking : Heavy presence from multiple agencies in #MorganHill at Condit and E. Dunne Ave. after gunman opened fire at local Ford dealership pic.twitter.com/RVLCtNkTCA

— Laura Garcia (@LauraGarciaNBC) June 26, 2019
Light, the father of two boys and mentor to Souto, reportedly confronted Leet and tried to grab the gun.
"Brian's heroic actions attempting to disarm the suspect provided precious seconds for employees and customer to flee the building out of harm's way," according to the GoFundMe.
The Ford Store Morgan Hill took to Facebook to announce that it will be open Thursday with limited staff. The dealership was closed on Wednesday.