The steady beat of dialysis machines at work gives the unit for kidney patients at Lucile Packard Children's Hospital Stanford its own unique soundtrack.
It's a sound 15-year-old Kayano Lizardo-Bristow has become quite used to. He's been here for the past 9 months getting dialysis 3 times a week while waiting for a kidney to become available for transplant.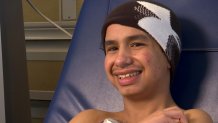 Even with a tablet and all of YouTube at his disposal, the wait can feel interminable.
"It does get boring when I can't find anything to watch," the Yuba City teenager said.
But thanks to the kindness of a nurse, Colin James, and a music therapist, Rebekah Martin, Lizardo-Bristow's wait has a new sound and great new feel.
"I was just so happy," Lizardo-Bristow said. "I didn't know what to say."
It all started when James donated to a radio station toy drive and was entered into a raffle. He won first prize: a guitar signed by music superstar Ed Sheeran.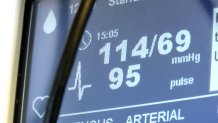 James was thrilled but there was one issue. "I'm not talented at playing guitar," James said.
What's more Sheeran's inscription on the guitar clearly states, "Play, don't display." James thought it wouldn't be right for him to hang onto the instrument and not play it.
So, he set out to find someone who would.
He thought there might be a patient at the hospital who would love such a guitar and sought out Martin to get her input.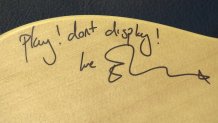 "She said, 'There's a patient I have been working with, he's learning the guitar. He's learning Ed Sheeran's 'Thinking Out Loud.' I think this would be a good fit,'" James said.
The more James learned about Lizardo-Bristow, the more perfect the fit seemed. The boy grew up in a family of musicians but had never owned his own guitar before. He was also a big Ed Sheeran fan.
So, one day in February, in the middle of Lizardo-Bristow's music therapy session, James surprised the teen with the guitar.
The lesson paused and the tears started.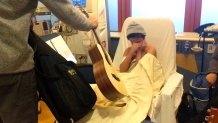 "I began to cry," Lizardo-Bristow said. "It was my first every guitar."
"That's what this whole thing was all about," James said. "He got to feel special; not just a normal kid but the luckiest kid in the world."
And, perhaps best of all, Lizardo-Bristow's very first guitar will make the wait for his next kidney, and life afterward sound a whole lot better.
"I won't stop playing the guitar."