A car that slammed into an Oakley house early Thursday morning ruptured a gas line, and missed a woman sleeping inside by mere inches, according to her son.
The crash, which occurred around 2:15 a.m. on the 1000 block of Rosemary Private Lane, caused a gas leak and prompted the evacuation of five people, PG&E officials said.
Andrew O'Bryan said he had woken up for a snack and fallen back asleep when he was startled awake by a "big bang." He ran out of his room and found his mother, who sleeps in the living room, on the floor near their kitchen.
O'Bryan said he dragged his mother down the hallway, but told her "get out of his house" when he noticed flames. He then went back into their home to look for his pets.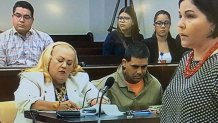 The man said he would take his mother to the hospital because she appeared to have pulled muscles in her neck and shoulder. O'Bryan was thankful, though, that she had not sustained any major injuries, especially because the car crashed into the house close to where she had lain her head.
"Every once in a while I have to go back and look at my mom and make sure she's still alive," he said.
PG&E crews were able to stop the leak by 5:52 a.m. and deemed the area safe. They then began repairing the line.
People remained evacuated as of 7 a.m. and Oakley police closed the area of Rosemary Private Lane and 4th Street to traffic.