On a good day, Rob Perry is simply tired.
On a bad day, Rob can't even get out of bed.
Such is the life of a 47-year-old battling stage IV colorectal cancer.
"The cancer has changed my life," Rob says. "Huge."
These days, though, whenever the long-time Castro Valley dance teacher is feeling depressed about his situation, he has a place to turn.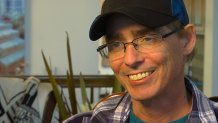 "Whenever I am down and need a good pick-me-upper. I go right to that video." Rob says.
The video Rob is referring to is a highly-produced, two-and-a-half minute dance routine performed by 50 of Rob's current and former dance students. It is part of an effort the Castro Valley dance community has undertaken to raise money for Rob's medical care.
WATCH MORE BAY AREA PROUD STORIES
So far, thanks to a pop-up-salon fundraiser, pancake breakfast, and the video, close to $20,000 has been raised for Rob. It is all appreciated, Rob says, but the video means the most because it incorporates the defining theme of his life: dance.
"The best gift I could possibly have had," Rob says.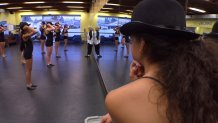 Rob says his career in dance started with the very first class he ever took as a sophomore in high school. He performed for years, but gradually moved into teaching and coaching. He was the coach of the Castro Valley High School Dance Team that won national championships three straight years.
He loved dance and his dancers adored him.
"He was not only their teacher, he was their friend," says Janet Taddie, studio director at Castro Valley Performing Arts.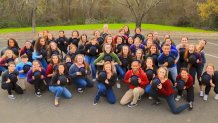 Their support is evident in the finished video product.
For weeks, the dancers practiced in secret.They shared links to videos of old routines Rob had choreographed, so they could learn the steps wherever they lived in the country. They gathered in the Bay Area in late December to shoot all the scenes for the video.
Rob says he loves every high-energy second of it. He loves seeing the faces of some dancers he has not seen in years, and is touched by the entire effort.
"It's amazing," Rob says, choking up.