It is traditionally the bride who gets walked down the aisle at a wedding.
Arthur Renowitzky has something different in mind for his, though.
If he gets married one day, he wants Eugene Yoon to walk with him. Why? Because, Renowitzky says, he wouldn't be walking at all right now if it weren't for Yoon.
"He has sacrificed so much for me," Renowitzky said of his friend.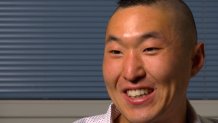 Yoon recently completed a six month, through-hike of the Pacific Crest Trail, covering more than 2,600 miles from the Mexican to Canadian borders. In the process, Yoon raised tens of thousands of dollars to help Renowitzky purchase a ReWalk, a powered exoskeleton which enables paraplegics to stand and walk.
Yoon said he battled through isolation, severe weather, and hunger to complete the trail. "All worth it, if it means Arthur gets to walk," said Yoon.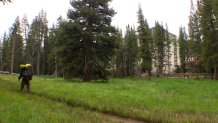 The 28-year-old Renowitzky was paralyzed when shot by a mugger in the parking lot of a San Francisco nightclub in 2007. Refusing to accept a doctor's assessment that he would likely never walk or talk again, Renowitzky has gone on to become a an advocate for the disabled: founding the non profit Life Goes On Foundation, speaking out against gun violence, and visiting newly paralyzed patients to reassure them that, indeed, life does go on.
"Just an incredibly inspirational person," Yoon said.
Yoon, from Castro Valley, had learned of Renowitzky's non profit work through his social media postings. He also learned that Renowitzky's dream of one day walking came with it a hefty price tag: $80,000 for the ReWalk.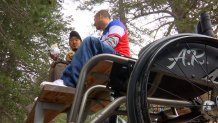 At the time, Yoon, who says he was inspired by talk show host Ellen Degeneres to "be kind to one another," was looking for someone he could do a good deed for. Having never met Renowitzky before, Yoon made up his mind to hike the PCT and raise the money Renowitzky needed.
"What type of person does something like that?" Renowitzky said.
Yoon left on his adventure in April, reaching the Canadian border mid-October. The highlight of the trek wasn't the finish, though, Yoon said. It came two weeks earlier when he received a message that he and Renowitzky had reached their fundraising goal and Renowitzky had purchased his ReWalk.
"I can remember that moment like it was yesterday," Yoon said. He recorded a video on the spot, screaming "We did it!" at the top of his lungs.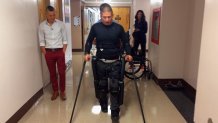 Still, Yoon was most looking forward to seeing Renowitzky use his ReWalk in person. He got that chance this week at Fairmont Hospital in San Leandro.
"This is unreal," Yoon said watching Renowitzky use the device to walk down the hallway of the hospital's rehab unit.
"I wouldn't be here without you," Renowitzky added. "You know that, don't you?"