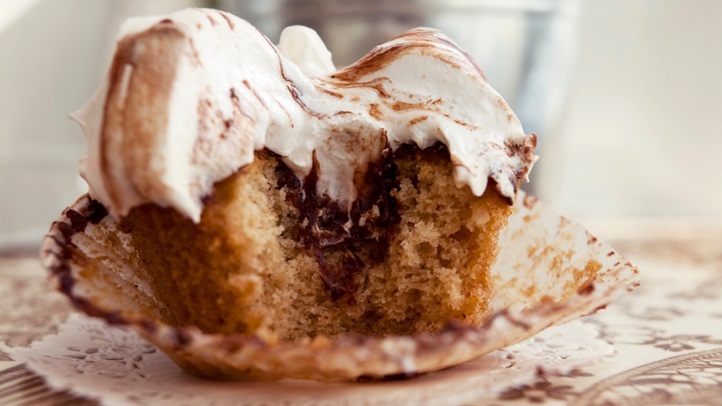 While the oven or stove top is the route we traditionally go to make colder foods hotter, there've been other heat-it-up candidates through the modern age: hot plates, microwave ovens, the fireplace, even running a packet of something under the hot water tap. (We've all tried it.)
But the small, outdoor fire preceded all of these by eons. And that there's only one contemporary dish associated with the original stove seems unlikely, and yet it stands: the s'more.
Yep yep: Hot dogs and beans and coffee in a vintage pot all have their campfire roles, but a marshmallow and square of chocolate squished between two graham crackers tends to be what we think of first, when we think cooking next to a campfire.
There is a National S'mores Day, and it crackles at the height of warmest summer, right when lots of people are out camping and trucking along all of the makings for the al fresco, sticky-finger'd edible: Aug. 10.
Not sitting in the woods, in your long johns, with a bar of chocolate and bag of 'mallows at your side? There are city-based choices to get your s'more on. The S'mores Cupcake is the cupcake of the month at Magnolia Bakery on West Third, and it is a mite fancier than any s'more ever attempted over a campfire: Think chocolate ganache, meringue buttercream, and a honey graham cake.
Luna Park also does a straight-up s'mores dish for dessert, complete with "molten marshmallow" and graham crackers baked in-house, and the Grilled Cheese Truck offers a s'mores-themed dessert involving Nutella.
"Involving Nutella" often bodes well, for what it is worth.
Could you employ the stove or oven to go the s'mores route on Aug. 10? Of course. Just because the campfire came first doesn't mean that the stickiest dish of summer has to always be made under the stars (though it does seem to possess a little something special, when it is).
Copyright FREEL - NBC Local Media