2:38 p.m. UPDATE: Officials say all evacuations have been lifted.
A Chevron natural gas pipeline caught on fire in Bay Point late Wednesday night after a grass fire caused a power line to fall on the structure, forcing over 4,000 people to evacuate their homes in the the middle of the night.
The evacuations were lifted at about 2:30 p.m. Thursday.
The concern was that the fire could have caused the 12-inch pipeline that runs through the East Bay to explode. Chevron crews started to purge the line early Thursday morning, and fire officials hoped to access the underground vault by 11:30 a.m., officials said.
The fire was first reported at 8:41 p.m. Wednesday in the vicinity of Poinsettia and Suisun Avenues, fire department spokesman Steve Hill said. Chevron immediately shut down the pipeline after the fire was reported, according to the statement released early Thursday morning.
The line affected by the blaze has been isolated from the rest of the pipeline and other pipelines housed in the vault, Hill said. He advised that didn't mean the threat of an explosion was mitigated and said residents should still heed evacuation orders from Wednesday night in an abundance of caution because there is still a threat of an explosion.
The Contra Costa Fire flew a drone over the vault Thursday morning to check on the status of the structure and pipeline. The infrared images from the drone showed heat signature clearly coming out of the area.
Evacuation orders remained in place overnight with thousands of people evacuated from 1,400 homes in the area of North Broadway Avenue to the west, Summer Way to the east, Suisun Avenue in the north and Willow Pass Road to the south.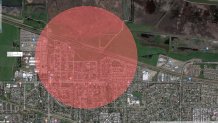 Contra Costa county officials said the venting of the gas line resulted in a loud, shrieking noise that was described as a "jet-engine-like sound" emanating from the site. Officials took to Twitter to ask residents to not call 911 as it was a normal noise for the process.
Evacuation centers were set up at Calvary Temple Church at 4725 Evora Road in Concord. An additional shelter was opened Thursday morning at Los Medanos College at 2700 E. Leland Rd. to move the evacuees from the Pittsburg/Bay Point BART station.
As a result of the incident, Willow Cove Elementary School in Pittsburg was closed Thursday, officials said.
Train traffic on rails owned by the Union Pacific Railroad and the BNSF Railway were halted in both directions as of late Wednesday night, Hill said.
There are no injuries to anyone at this point, Hill said.
The initial grass fire was reported at 5:49 p.m. Tuesday and contained at 6:17 p.m. Hill didn't say if PG&E shut down power to the power line after the initial blaze.
Chevron has set up a number for anyone looking to file a claim for damages related to the fire and evacuation: 877-294-8621
Copyright BAYCN - Bay City News