As president of his neighborhood council, Cesar Zepeda is something of a watchdog for Richmond's Hilltop District.
There is one spot in the neighborhood, however, that Zepeda has never had to watch. For the past 12 years, someone else had taken care of that.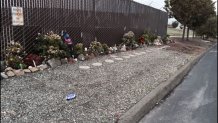 "Here are the stepping stones," Zepeda said, pointing to a photograph of a roadside memorial along San Pablo Avenue near the intersection of Richmond Avenue. Zepeda says for years someone has been maintaining the memorial, adding flowers, candles, and statues. None of his neighbors, though, ever remember seeing who that person was.
"Somebody kept coming back," Zepeda said. "It changed for the holidays. You know for Christmas, he would put a Christmas tree up. There would be lights at night. So it doesn't matter the time, day or night you drove, there was something, something different all the time."
WATCH MORE BAY AREA PROUD STORIES
The memorial might have remained just a neighborhood curiosity except Chevron, which had graciously allowed the memorial to exist on property it owned, announced plans to build on the site.
The memorial would have to go.
After all those years, all that work, Zepeda couldn't bear to think of the memorial being destroyed.
"There was love that was oozing out of the decoration," Zepeda said. "You can tell this wasn't just any memorial."
But who did it belong to? Who had been sneaking in, in the middle of the night, night after night? Zepeda asked around, but no one knew. He went to Chevron who agreed to leave a note asking whoever the caretaker was, to come forward.
"I just ignored it," Raymond Olson said. It was he who had been keeping up the memorial for the past dozen years. "I knew what was coming. Or at least I think I did."
Olson's son, also named Raymond, was killed by a drunk driver on the spot in 2003 at the age of 22. "It's like a whole dimension of pain that you don't think can exist," Olson said.
He poured his grief into the memorial. He would come in the middle of the night because he knew it was one someone else's property and he didn't want to draw attention to himself. Still, he knew that one day it would have to be taken down.
He was only partially right. When Olson's sister finally called Chevron she discovered that Zepeda had asked the company to build a permanent memorial in a nearby park to replace the makeshift one.
"It's more than I ever could have dreamed of," Olson said.
Olson said he had been carrying a heavy burden on his shoulders since his son died. He believed that one day, when both he and the memorial were gone, his son would be forgotten.
That burden had suddenly been lifted.
"I just don't have the words to thank you all," Olson said at a dedication ceremony last Saturday for the new memorial: an iron bench and plaque with the younger Raymond Olson's pictures.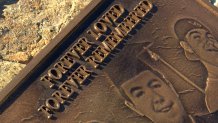 It just felt it was the right thing to do. I can't call it anything else. It was the right thing," Zepeda, who was also at the dedication said.
Olson says without the memorial to worry about, he feels he can start to live a life that was put on hold 12 years ago. He says he'll need a little time to think about what that life will be like.
He does know, however, where he will be sitting while figuring it out.