A preliminary hearing Tuesday in the case of two drifters charged with murdering a hiker in Marin County and a tourist in San Francisco opened Tuesday with chilling testimony about the October 2015 slayings.
Nineteen-year-old Lila Alligood and 24-year-old Morrison Lampley are charged in the shooting deaths of 23-year-old Audrey Carrey of Quebec and 67-year-old Steven Carter of Fairfax. A third defendant, Sean Angold, has pleaded guilty in the murder of Carter and has agreed to testify against his former companions.
On Tuesday, the court heard testimony from a Marin County sheriff's detective detailing the scene where Carter was killed and what one of the defendants confessed to a jail cell mate during the subsequent investigation.
Detective Scott Buer, on the stand at the San Rafael courthouse, described the scene on a trail in Marin County where Carter and his dog were found dead.
"The male victim was shot," he said. "There was blood all over him. There was also a dog there that had been shot."
Even more disturbing were the statements of confession Alligood made to her jail cell mate that were relayed to Buer. Alligood told the cell mate Lampley had shot Carter in order to rob him of his wallet and silver Volkswagen Jetta, according to Buer.
"The old man needed to die" is the phrase Alligood reportedly told the woman Lampley used.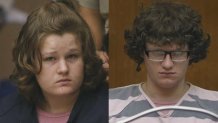 In the killing of Carrey in Golden Gate Park, Alligood reportedly said she had already taken the woman's wallet without her knowing and that the young tourist was actually thanking them for being her first friends in California. That's when Lampley jumped up and shot her in the head, Buer told the court.
Alligood initially told Buer it was Angold, 24, who pulled the trigger in both shootings. She later changed her story to say it was Lampley.
"She stated that she was protecting Lampley, that she loved him and that was the only thing she had left, and she'd do anything for him," Buer told the court.
Under cross-examination, the court learned details about the cell mate who provided the information to Buer. She has been sent to prison five times. But she knew details that detectives say she could only have learned from Alligood, such as the fact that a bullet pireced Carter's wallet, putting a hole through his Visa card and soaking $20 bills in his blood.
Alligood broke down in court as the detective talked about her relationship with Lampley. Alligood and Lampley face life without parole if convicted.
The preliminary hearing is expected to last into next week, with Angold due to testify Monday.