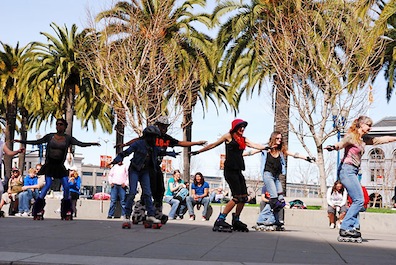 The summertime tradition in the City "Sunday Streets" is going to expand to North Beach and Chinatown this year, according to San Francisco Mayor Ed Lee.

Lee announced Monday that the monthly event is also changing hours in 2011 and will happen between 11 a.m. and 4 p.m. Sunday Streets starts March 20 along the Embarcadero.

Sunday Streets shuts down various parts of town on weekends so that locals and visitors can have free reign of an area without the worry of cars. Thousands turn out each week to experience the city on foot.

The date and exact street locations for Chinatown and North Beach haven't been announced yet.

Here is the official schedule so far:
March 20: Embarcadero from Fisherman's Wharf to Mission Bay
April 10: Great Highway and Golden Gate Park
May 8: Mission, including the popular route along 24th and Valencia Streets
June 12: Bayview, on 3rd Street from Mission Bay, Dogpatch to Bayview Opera House
July 10: Great Highway and Golden Gate Park #2
August 14: Civic Center and the Tenderloin
September 11: Western Addition, North Panhandle, Alamo Square and Fillmore
October 23: Mission #2
"I am delighted to announce the return of one of the City's most exciting initiatives, Sunday Streets," said Lee in a press release. "And this year, I'm pleased to announce a new route in the Chinatown and North Beach neighborhoods. Now, more than ever, it is community building programs, such as Sunday Streets, that are critical to our City's well-being."

San Francisco was the third city in the United States to premier Sunday Streets, but it is by far the largest.