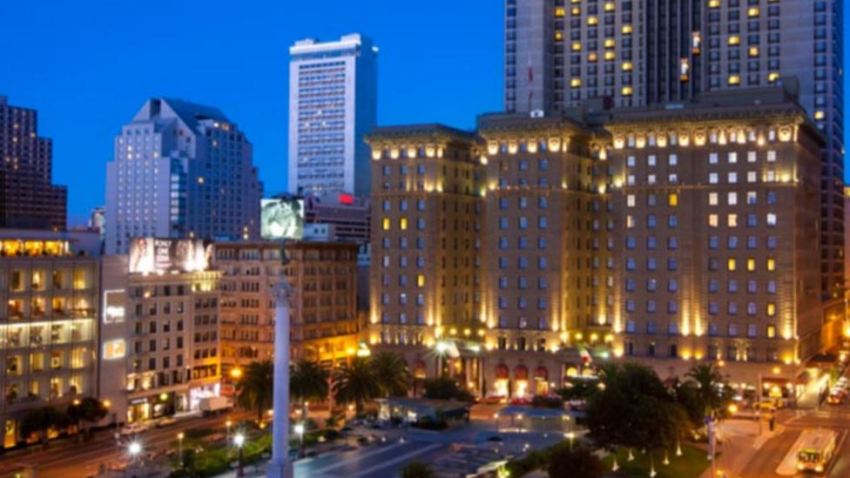 The price for Starwood Hotels rocketed higher after an offer from China's Anbang and its partners crossed the $15 billion mark in a fight for control with Marriott International.
Starwood Hotels & Resorts Worldwide Inc., which has 28 hotels in the Bay Area, said Monday that the offer from the Anbang group is "reasonably likely" to be superior to the one made just last week by Marriott.
While CEO Arne Sorenson said in an interview at the time on CNBC that he didn't tell Starwood that the latest offer was Marriott's last and best, some industry analysts believe this may be a fight it can't win, at least if it is to be determined by the highest bid.
On Monday, Marriott said in a letter that shareholders of Starwood should give serious consideration not only to financing an offer of such size, but also to "the timing of any required regulatory approvals."
While Marriott said it would not comment outside of that letter, it appeared to be alluding to hurdles that a Chinese company would have in acquiring Starwood.
Anbang is the Chinese insurance company that two years ago acquired the famed Waldorf Astoria of York.
Just two weeks ago, Blackstone Group agreed to sell Strategic Hotels & Resorts to the Chinese firm for $6.5 billion, CNBC confirmed.
Through the deal, Anbang owns the Hotel del Coronado in San Diego, Ritz-Carlton locations in California, the Fairmont Scottsdale in Arizona, and the Four Seasons Resort in Jackson Hole, Wyoming.
While the Waldorf Astoria deal was cleared by the U.S. Treasury's Committee on Foreign Investment, a decision was made to house President Barack Obama, his top aides and staff along with the sizable U.S. diplomatic contingent elsewhere during the annual U.N. General Assembly, which takes place every September.
Presidents and other top U.S. diplomatic officials had stayed at the Waldorf for decades.
For Anbang, analysts say Starwood isn't valued so much for its brand name as much as it is for its location: outside of China.
That has been the view of Canaccord analyst Ryan Meliker, who told clients in a research note, "We don't think (Marriott) can go higher, and we would question it if they did."
Anbang and a number of Chinese companies have been seeking to park money in more stable locations, such as U.S. real estate, particularly with signs of slowing growth at home growing ever clearer.
The blitz by the Chinese insurer into the U.S. real estate market has repeatedly knocked askew the ambitions of Marriott, which has been attempting to add Starwood's posh hotels to its portfolio since last year.
Marriott initially bid $12.2 billion for the Greenwich, Connecticut, hotel in November and most had expected that it would become the biggest hotel in the world when it completed the deal.
But few had realized the ambition, or motivation, of Anbang, even though it made a sweeping entrance into the U.S. real estate market when it bought the Waldorf Astoria from Hilton for the staggering price of almost $2 billion.
Marriott on Monday said that it remains confident that Starwood would be better off with its bid. CEO Sorenson has said the tie-up would create a global powerhouse with a loyalty program unmatched by any other hotel.
And Starwood said Monday that its board has not changed its recommendation in support of a deal with Marriott, though it is reviewing Anbang's latest offer.
Wall Street appeared to believe either that Marriott's bid would stick, or that it would retreat.
Shares of Marriott International Inc. jumped 4 percent Monday, one of the biggest gainers on the Standard & Poor's index.
The latest offer from Anbang is for $88.66 per Starwood share, or $15.03 billion. That tops the $14.41 billion offer that Marriott made last week.
Anbang's offer includes $82.75 per share in cash, which is an increase of $4.75 per share from its previous bid. The bid also includes $5.91 in stock for a spinoff of a vacation business.
Whoever gains control of Starwood will likely be entering Cuba, as well.
Starwood last week became the first U.S. hotel operator to gain access to Cuba during the first visit by a sitting U.S. president in almost 90 years.
Copyright AP - Associated Press