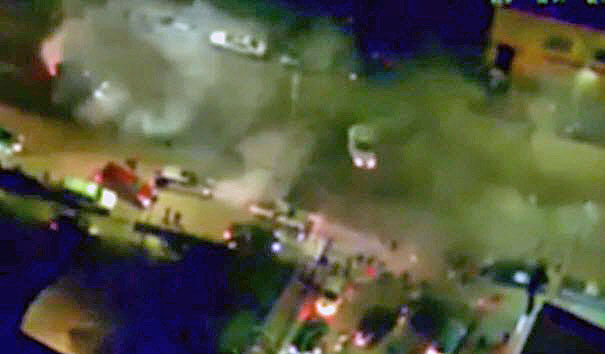 A 23-year-old Pittsburg man was arrested early Sunday morning after he struck a California Highway Patrol helicopter with a laser during an illegal sideshow in Oakland, the CHP said.
At about 2:20 a.m. a CHP helicopter responded to a report of multiple sideshows within the city of Oakland and located the first sideshow at 42nd Avenue and Interstate 880, the CHP said. The sideshow involved about 50 vehicles.
Shortly after the CHP helicopter arrived, the sideshow dispersed and moved to the area of 54th Avenue and International Boulevard, where about 200 vehicles were participating in a n illegal sideshow, the CHP said. There were fireworks being shot into the air and multiple reports of gunfire from the area.
While maintaining a safe distance, the CHP helicopter was struck multiple times with a green laser, and the crew were able to locate the suspect, the CHP said.
The helicopter followed the suspect as he left the area in a white sedan abd the crew directed CHP ground units to the suspect's location, where he was taken into custody, the CHP said.
The suspect, who has yet to be identified, faces felony state charges, federal charges and a possible fine of $11,000 per laser strike by the FAA, according to CHP officials.