Authorities on Thursday said they arrested a man on suspicion of launching projectiles at moving vehicles along roadways in the Prunedale area during a nearly yearlong series of attacks.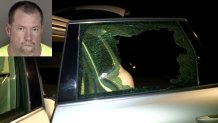 Charles Kenneth Lafferty, 52, was arrested Wednesday in connection with the 69 reported projectile attacks along Highways 101 and 156 in Monterey and San Benito counties, according to the California Highway Patrol. Five people, including one child, suffered minor injuries in the attacks, which date back to February 2019.
The CHP believes Lafferty used a slingshot and glass marbles during the attacks. There is no indication that a firearm was ever used.
Lafferty was arrested after officers served search warrants in Monterey and San Luis Obispo counties, CHP Coast Division Chief L.D. Maples said.
Four CHP officers and a deputy with the Monterey County Sheriff's Office were assigned to investigate the attacks, with the latest being reported on Jan. 5, Maples said.
The task force identified a pickup truck that they linked to several incidents, including the one in January. That led investigators to Lafferty, who they believe attacked drivers traveling in the opposite direction of his truck, Maples said.
Making an arrest "was a sigh of relief," Maples said. "We felt it was only a matter of time before someone seriously got hurt. It was great news."
Law enforcement officials didn't comment on a possible motive for the repeated attacks. They believe the suspect was working alone and the victims appeared to be randomly attacked.
Lafferty is in custody in the Monterey County Jail, according to the CHP. He was booked on the following 21 charges: 10 counts of throwing an object at a moving vehicle, 10 counts of assault with a deadly weapon and one count of having a silencer or silenced weapon. His bail was set at $250,000.