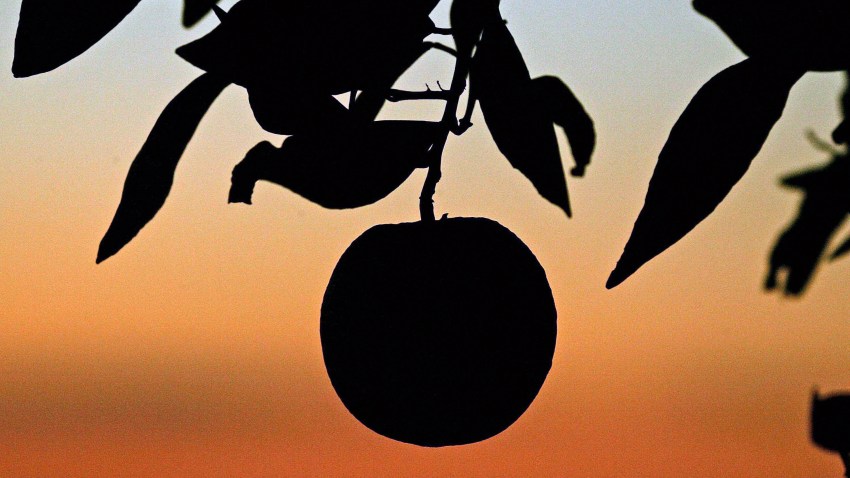 California's citrus crop escaped serious damage early Thursday as the state faced an onslaught of cold weather over Thanksgiving that may have contributed to the death of a toddler.

Subfreezing temperatures failed to fall far enough to damage crops worth billions of dollars in the state's Central Valley citrus belt, California Citrus Mutual president Joel Nielsen said.

Clouds that rolled in after midnight raised temperatures 2 to 3 degrees, warding off a potentially devastating frost, he said.

Citrus damage can occur when temperatures fall to 28 degrees for four hours or longer. Some areas saw 27-degree temperatures Wednesday night but for no longer than an hour, Nielsen said.

A freeze warning remained in effect through Friday morning. The National Weather Service predicted temperatures could fall as low as 25 degrees in rural areas.

The cold weather stretched to inland Southern California, where temperatures were predicted to fall below freezing Thursday night.

In Placer County, officials told KCRA that toddler Zachary Mather and his stepmother were walking Wednesday along a canal in Colfax when the woman slipped on a patch of ice and the two fell into the water.

The stepmother got out of the Bear River canal and yelled for help. Rescue crews found the toddler downstream but could not revive him.

The current cold snap has sent temperatures plunging to near-record lows across much of the state.

The National Weather Service reported a record low of 27 degrees for Redding in the north-central part of the state. The small community of Sandberg in northern Los Angeles County saw a record of 24 degrees.

The wintry weather sent ski resorts in the Lake Tahoe area scrambling to open their slopes to take advantage of one of the biggest early snowfalls in years. Up to 9 feet of snow has fallen on the region.

Copyright AP - Associated Press