The city of Santa Cruz began its first day of mourning on Wednesday, following an unprecedented fatal shooting of two police officers conducting a sexual assault check.
A memorial where the officers were killed was growing, and by early morning included hearts with the message "Thank you SCPD," candles, teddy bears and flowers. People flocked to the site to pay their respects for a shootout that the police chief called the "darkest day" in the department's history.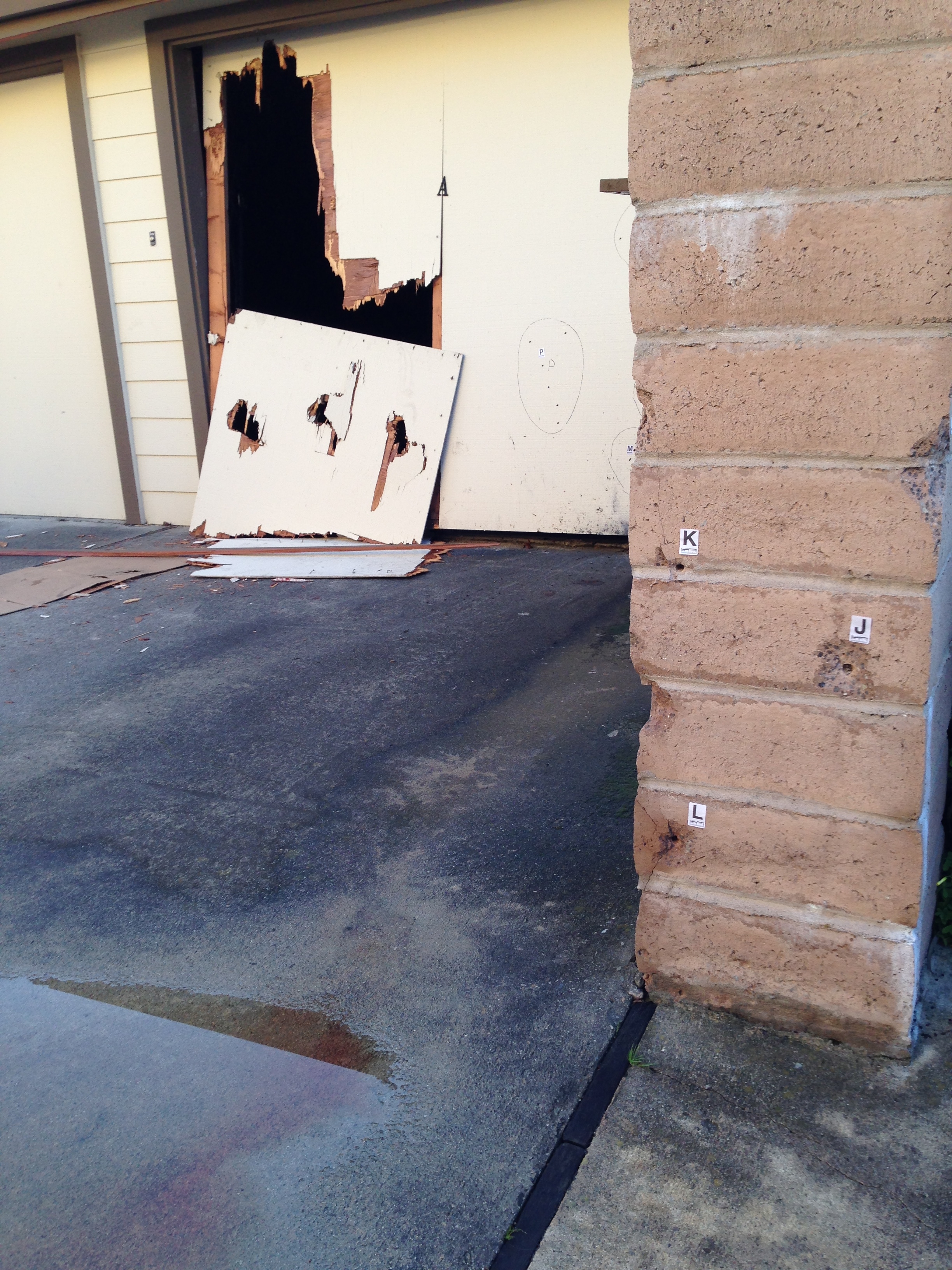 A suspect - Jeremy Goulet, 35, was also killed during the 3:30 p.m. shootout. Goulet was found guilty in 2008 of peeping at a woman while she showered in Portland, Ore., and also convicted of carrying a gun without a permit. The Santa Cruz Sentinel reported he was arrested last week for disorderly conduct, and was fired Saturday from his job as a barista at a harbor coffee shop.
"And he just came out into the open with a gun in each hand and was just shooting them like out of a movie," neighbor Cliff Haggerty told NBC Bay Area on Wednesday.
According to the Sentinel, Goulet apparently broke into a co-worker's house on Friday and made inappropriate sexual advances toward her, according to a coffee shop employee, who asked to remain anonymous. He was fired from the coffee shop on Saturday, the newspaper reported.

The female barista filed a police report and talked to police as late as Tuesday afternoon. That may have been what sent investigators back to Goulet's residence Tuesday.
The police officers who were killed in the line of duty - the first time in the city's history were: Det. Sgt. Loran "Butch" Baker and Det. Elizabeth Butler, had a combined 38 years of experience with the Santa Cruz Police Department.
"We at the Santa Cruz Police Department are like family," Santa Cruz police chief Kevin Vogel said at an emotional news conference Tuesday night. "I've known both of these officers for a long, long time and there just aren't words to describe how I feel personally about this and how our department is reacting to this horrific, horrific tragedy."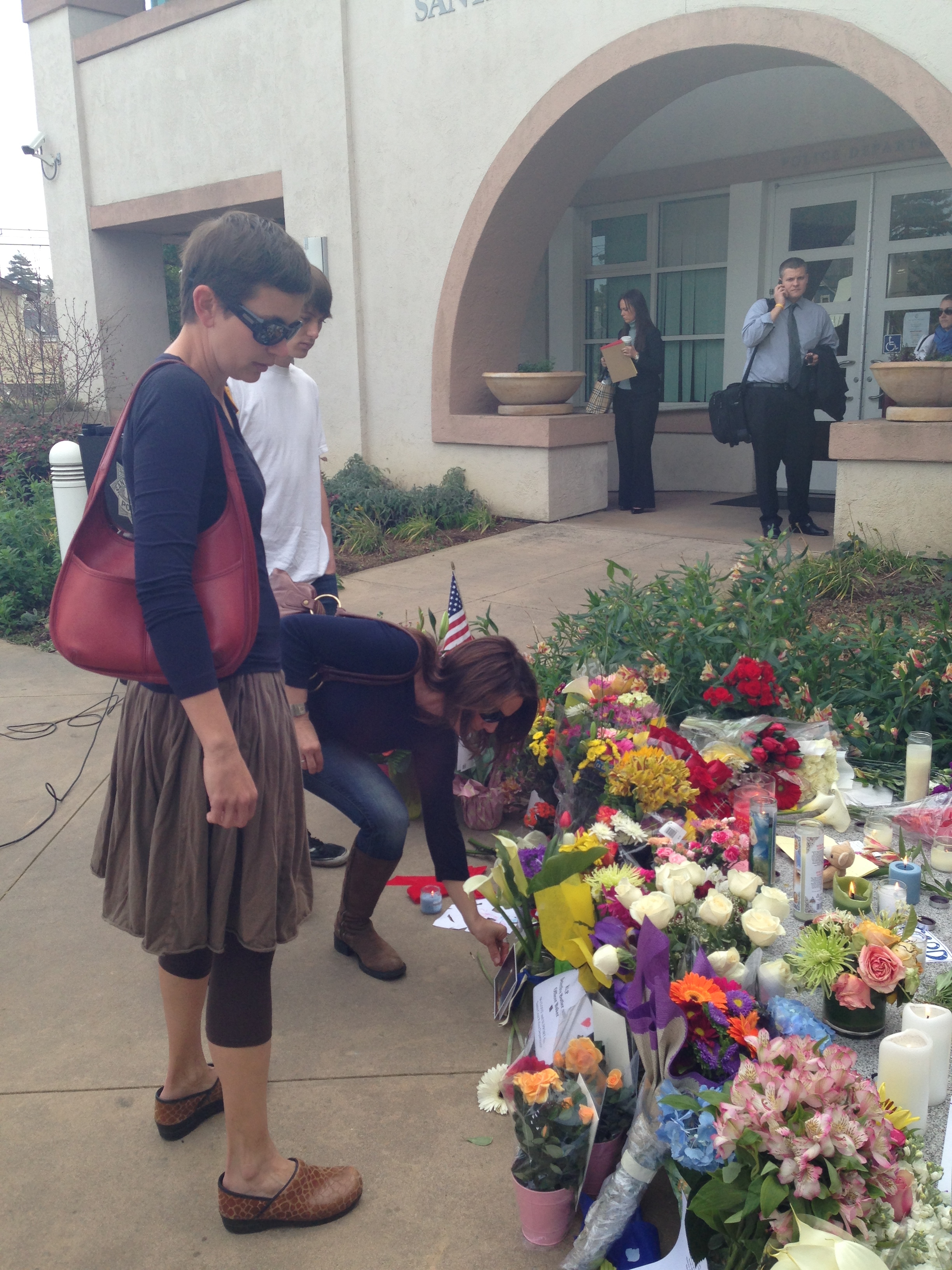 Baker had been with the department for 28 years and leaves behind a wife, two daughters and a son, Adam, who works for the department as a community service officer.
Butler leaves her partner, Peter, and two young sons.
"This is the darkest day in the history of the Santa Cruz Police Department," Vogel said.
Baker and Butler went to an address on North Branciforte Avenue as a part of an investigation Tuesday. In making contact with the suspect, Santa Cruz resident Jeremy Goulet, 35, an altercation ensued.
Both detectives were killed at the scene.
After going door-to-door in the community authorities say there are no more outstanding suspects or any danger to the community.
A Santa Cruz resident, who declined to give his name, said he was sitting in his house in the 800 block of North Branciforte Avenue when he heard gunfire across the street around 3:30 p.m. Police arrived soon, he said. That's when a suspect fired at police, hitting the two officers.
A while later, he heard a "multitude of gunfire" coming from an area nearby. He said police told residents to stay inside and not to leave.
Following the incident, schools in the immediate area were placed on lockdown.
"We need to figure out a way to bring our department together and get through this," Vogel said. "It's a horrible, horrible day for the Santa Cruz Police Department and the community of Santa Cruz."
After the police were killed, a second shooting occurred a half-hour later while police were in pursuit of at least the suspect on Doyle Street. A barrage of gunfire erupted that left Goulet dead on Doyle Street, according to the Sentinel.
Police were on a citywide manhunt for several hours after the initial shooting. The FBI joined the investigation just after 4 p.m. as well as law enforcement from the sheriff's office, Capitola, Watsonville and Scotts Valley police departments and the California Highway Patrol.
In addition to the growing memorial at City Hall, schools flew their flags at half staff, and Calvary Episcopal Church opened its doors for an impromptu service for anyone to grieve and pray.
Related stories:
Two Santa Cruz Police Officers Killed
Santa Cruz Neighbor Records Shootout on Video
Santa Cruz Suspect's Dad: He Was A Ticking Timebomb
NBC Bay Area's George Kiriyama and Bob Redell contributed to this report.
Photo credits: Larissa Mueller/Santa Cruz Sentinel; Baker family