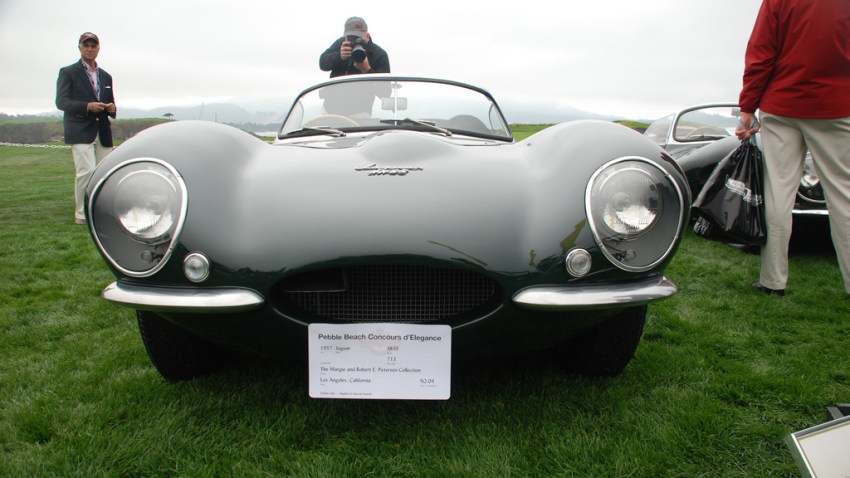 For lovers of all things automotive, the Monterey Peninsula was the place to be this weekend.
Laguna Seca hosted the Rolex Monterey Motorsports Reunion and just a few miles away Pebble Beach was home to the 2010 Concours D'Elegance.
The featured carmaker at Pebble Beach was Jaguar, which is celebrating its 75th anniversary. To mark the event Jaguar brought together 12 1957 XKSS model Jags. There are only 16 in the world and they are valued at around $2.2 million each. Among the owners of these beauties was actor Steve McQueen.

There were 175 cars in the show; all of them lined up on famous the 18th fairway in front of the Pebble Beach Lodge. The winning "Best of Show" car this year was the 1933 Delage D8S Villars Roadster.

The show had its share of auto drama. One of the $2 million Jaguars had an engine fire as it was being driven from Laguna Seca to Pebble Beach. A Jaguar representative couldn't say how much it would cost the owner to repair and repaint the blackened and blistered hood. Another burned out its clutch when it was stuck in traffic on a hill near Carmel. Both cars made it to the show.
At Laguna Seca more than 600 cars in 19 race groups took to the track on the world-renowned, 2.238-mile course. It was an impressive showing for those who have a need for speed and a love for cars.

A regular at the event is NBC's Jay Leno. "I like anything that rolls, explodes and makes noise," Leno told KSBW.

While Leno enjoyed the cars from the sidelines, actor Patrick Dempsey, known as Dr. McDreamy in the TV show Grey's Anatomy, enjoyed the cars in the driver's seat.

"Beautiful car -- got a chance to race it her last year. It's sort of an end-of-an-era with this automobile and it's a real pleasure driving it once again for Mazda," Dempsey told KSBW.

Dempsey is an actual race car driver and has raced the vintage Mazda RX-792 prototype GTP this weekend.