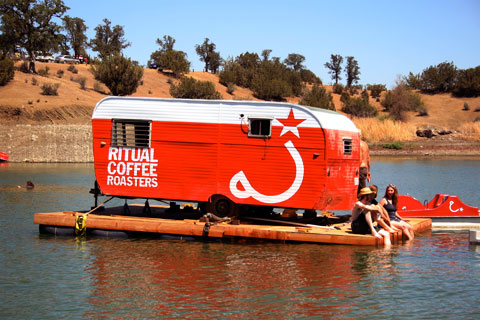 From falafels to Cuban sandwiches, the latest food trend is rolling to a street corner near you.

The Bay area is home to more than 200 food trucks and it's a quickly growing segment of the gourmet food business but just how clean are these restaurants on wheels?

How do you know what went down won't come back up?

Food poisoning strikes 5,000 people a year and there's no way to know how many more cases go unreported.

Enter food inspector Imelda Reyes. She points out the good, the bad and the unsanitary for a living.

Recently she inspected popular taco truck El Tonayense. The truck received a score of 92 out of a 100 on its last scheduled inspection in February.

But it didn't fare so well on on its most recent surprise visit. Its score dropped 20 points to 72 partly because there was no soap at the sink, improper thawing methods and raw meat stored at the wrong temperature

Juan of El Tonayense said the mobile chefs "for sure we're gonna fix everything add translation." Reyes says she will help.

Licensed food trucks are held to the same standards as brick and mortar restaurants. The health department says diners are at greatest risk when they eat from the many trucks that are unlicensed because those trucks are never inspected.

Supervisors in San Francisco are working on an ordinance to make it easier for food trucks to get permits and operate legally.

While mobile eateries required to post their inspection report, they don't have to post their number score. But Hapa SF Chef William Pilz says those numbers can be misleading because deductions aren't always based on food safety.

"This truck has an 88 but that's because I forgot to post a piece of paper in the window," he said.

And Reyes admits trucks that have minor and moderate violations could have scores in the 50s and 60s and still be allowed to operate.

"You could have a score as low as 50 and still be operating," she said.

So how do you make sure your street food is safe food? Start by looking for the latest inspection sticker --
and don't hesitate to ask for the health inspection report that every truck is required to have.

Truck owners say they welcome the inspections.

"One person gets sick and it's over for all of us," Pilz said.

They say the visits keep everyone up to code and they're changing the reputation of these street side staples.

"These aren't roach coaches anymore. These are restaurants on wheels," Pilz said.