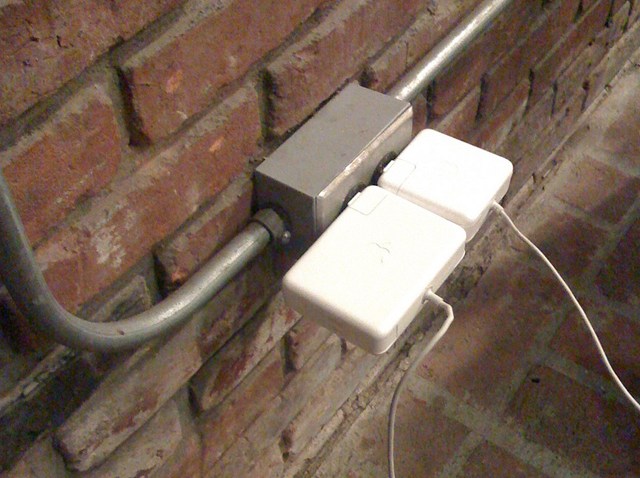 Groupies at one of the South Bay's most popular coffee shops woke up to a bitter dose of reality a few weeks back.

Barefoot Coffee Works rearranged its store to accommodate the growing number of people who want to "enjoy their cappuccino in a real ceramic cup." But more room for cappuccino guzzlers leaves less chairs for laptop wielders to spread out over four chairs and turn a cafe into a makeshift office for $5 a day.

The Wall Street Journal says some coffee shops are struggling to support laptop users who camp out all day using their free Wi-Fi and electrical outlets and do not buy enough coffee and food to offset their costs.

"It is a hot button issue for sure. Especially in Silicon Valley," said Andy Newbom, a Catador at Barefoot Coffee Works. "As you can imagine we have a very large crowd of 'business class' customers who are only paying 'economy class' for their seats."

Barefoot does not discourage its customers from bringing their computers along to the cafe, according to Newbom, but his coffee shop is one, among several, that is trying to have space for laptop users and coffee enthusiasts alike. While others are struggling to accommodate both because of the struggling economy.

Naidre's in Brooklyn, N.Y., has a sign reminding customers that "...people gotta eat, and to eat they gotta sit," according to the Journal. The neighborhood coffee shop does not allow laptops during certain hours unless the customer is "eating and typing at the same time."

Barefoot covered up all but one electrical outlet in the front of its cafe and rearranged its entire seating area and setup two long tables for laptop users and business teams to work in the back. Wi-Fi

"These two things have enabled us to reduce the laptop user taking an entire table and using it for four to six hours and made our cafe much more people friendly and community oriented," Newbom said. "We are very friendly and smiley about it."

Ritual Coffee Roasters in San Francisco's Mission district has a similar approach but with the set up reversed. The long table for computer users is in the front and the seating area for the latte sipping crowd is in the back. Coffee Bar in San Francisco puts out signs asking laptop users to share tables when the cafe is crowded.
One of San Francisco's oldest coffee shops, Cafe Trieste, says they don't have any problems accommodating coffee drinkers and computer users.
"I think as we open in other areas where the clientele might be younger in general we could approach the problem stage," Cafe Trieste President and CEO Fabio Giotta said. "I think our customers are a large mix of folks and I don't see it becoming a problem in the near future."
In fact, Cafe Trieste's Civic Center location has computers hooked up to the Internet for people who don't have their own laptops.
"Obviously they are promoting it," Giotta said.

But others want to offer a European stand up cafe experience in shops. Barefoot is building a new cafe in downtown San Jose where there will be no room for laptop computers.

"We are designing it so that there are ZERO customer plugs for laptops and making it less an office and more of a cafe," Newbom said. "We are designing seating and table to accommodate cups not laptops and books. tables will be smaller and skinnier OR large community tables where a single user does not take up two to four seats."

Other coffee shops limit free Wi-Fi usage or attach net access to coffee purchases like Cafe Abir. The small coffee shop in San Francisco's Western Addition gives customers a code to access the web for a limited time after they make a purchase.
The Wall Street Journal says the issue is most noticeable with independent coffee shops in New York City. But Giotta believes New York has another problem.
"New York is dying for a Cafe Trieste," he said. "I was there a couple of years ago and I was just amazed and at the lack of good independent coffee shops."