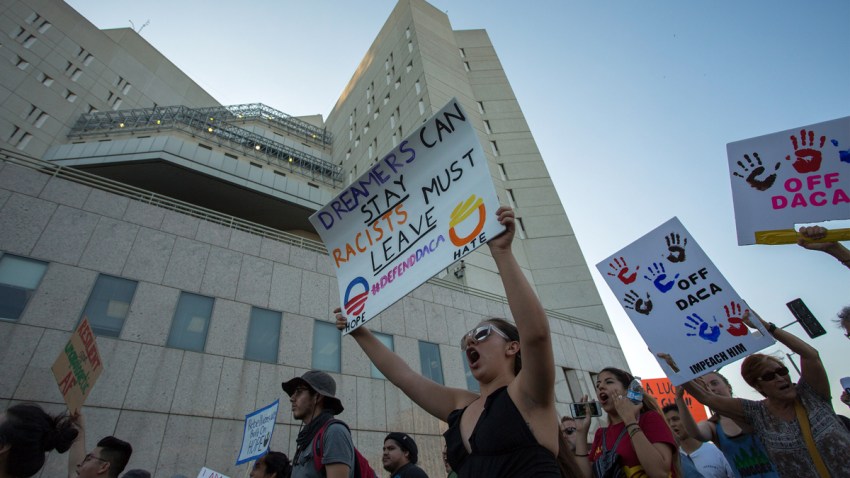 A collaborative of Catholic charities, a grassroots organization and other multi-faith community leaders are coming together to provide Deferred Action of Childhood Arrival recipients an opportunity to renew their work permits before the program's proposed termination by the Trump Administration in six months.
The collaborative is offering DACA recipients, also known as "dreamers" a "DACA Renewal and Know Your Rights Clinic" on Saturday, Sept. 16 at Most Holy Trinity Church in San Jose from 9 a.m. to 1 p.m. The clinic, also being offered by People Acting in the Community Together, is also intended to give dreamers knowledge of their rights as the program is eliminated.
The plans come days after the Trump Administration announced intentions to eliminate the DACA program created via an executive order by President Barack Obama in 2012. The program covers 800,000 young adults who arrived in the United States as children. California has 223,000 "dreamers", 23,000 of which live in Santa Clara County.
The program will under-go a six-month "wind down" before it is officially eliminated but recipients whose work permits expire between Sept. 5, 2017 and March 5, 2018 have less than a month to apply for a new two-year work permit. Dreamers with work permits that expire past March 5, 2018 will not be able to renew their permits before the deadline.
Father Jon Pedigo, the director of advocacy and community engagement for Catholic Charities of Santa Clara, said the coordination of the event came together rather quickly after the announcement.
"We had three and half days to put this together," he said. "It was a quick response."
He said the immigration legal services division of the Catholic Charities of Santa Clara County - which comprises two lawyers and several other Department of Justice-accredited representatives, is putting a heavy focus on helping DACA recipients.
"They are pivoting a lot of their resources to the catholic charities in response to this crisis," Pedigo said.
"People need to know what their resources are."
Most Holy Trinity Church is located at 2040 Nassau Drive in San Jose.
Copyright BAYCN - Bay City News