A woman's combat service dog disappeared Sunday while in the care of friends who were camping on an island on the San Joaquin River.
Nicholette Bilbal tried hard to hold back her emotions while explaining life with her service dog Leo.
"He's a special dog; I worry for his safety," Bilbal said. "Leo is trained for my PTSD. He's my constant, he's my best friend, he's the love of my life."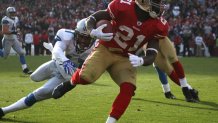 Leo, a 4-year-old Chow-golden retriever mix, disappeared while on a camping trip with Bilbal's friend, Chris Peterson, and his family, who were staying near the Lower Sherman Island slough in the San Joaquin River. They all got on a boat in Antioch at the start of the trip.
"We got out to the island about noon, and everyone was socializing, swimming in the river, canoeing and stuff," Peterson said. He even snapped a picture of Leo lying in the sun.
Around 4 p.m., Leo was nowhere to be found, Peterson said. So the campers searched up and down the island until dark and continued the next morning.
"I think we all agreed he couldn't still been on that island," Peterson said.
One concern is that Leo got into the river, and a boater picked him up or someone thought he was a stray.
Leo is chipped and is not known to be aggressive, Bilbal said.
There is a $1,000 reward for the safe return of Leo. For those who wish to see more photos of Leo or have more info about his disappearance, a Craigslist page has been set up.
A hopeful Bilbal, an Army veteran suffering from severe post-traumatic stress disorder after tours in the Iraq War, said Leo's service vest is waiting for him at home.
"I just want to get my boy back," she said.