Concord police arrested two people and recovered a loaded handgun and suspected stolen property after a three-vehicle hit-and-run crash Tuesday.
A 12-year-old girl suffered head injuries in the collision, which occurred at Denkinger Court and Denkinger Road around 5:30 p.m., police said.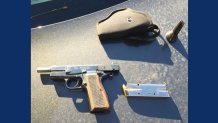 A witness reported that two people fled from one of the vehicles involved in the crash and hid in a nearby home. Responding officers surrounded the house and, with the assistance of a K9 named Bono, nabbed the pair.
The suspects – identified as 28-year-old Eli Rudnick and 23-year-old Kayla Tindall – were arrested on several charges stemming from the crash. Police said the child was transported to an area hospital.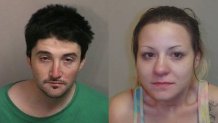 A further investigation led officers to the firearm and stolen items, police said.