Santa Cruz County residents were allowed to return to their homes Wednesday as cooler temperatures gave fire crews a much-needed boost in battling the Loma Fire.
The fire in the Santa Cruz Mountains had grown to 2,865 acres and was 22 percent contained by Wednesday evening, according to Cal Fire. Even as the fire's movement slowed and its containment increased, there were challenges.
"Very steep hillsides," Cal Fire's Jason Finney said. "The fire's well established down below, so that's probably the number one challenge that we have. Just access and getting the crews down there to go direct at it."
In some cases, firefighters are finding themselves pulling what amounts to double duty as flames re-emerge in charred areas.
"On this fire, this slope has been burning a second time and completely burning out this second amount of fuel," said Cal Fire's Tom McEwen, covering an area where several hot spots reignited. "So we're having to almost deal with this fire twice in some places."
Fire crews also stumbled upon a marijuana grow.
"In California now, it's something we see quite often," Finney said. "It's just something we work around."
Sheriff's officials lifted evacuation orders in Santa Cruz County around 2:30 p.m. Vehicle traffic will continue to be limited, however, due to a large number of emergency vehicles.
Mandatory evacuations in Santa Clara County remained in effect. And even those who were not required to leave their homes in the Almaden Valley feel they're in an at-risk zone - from all the smoke and ash.
Resident Rich Regan said he's been getting headaches.
"It was really smoky this morning," he said. "But by lunchtime it cleared up, and we had like ashes on the car; a little unusual.
"It's not healthy," Regan added. "We went and got some spray painting masks so we could go outside. We've just been kinda staying inside and away from from it."
Meanwhile, road closures also remained in the area, officials said. Non-residents are urged to avoid Ormsby Cutoff, Haven Hill Lane, Pacific Rim, Loma Prieta Way, and Rancho Prieta, Mt. Bachi and Summit roads.
Cal Fire officials said they could probably contain the fire, which has charred nearly 4.5 square miles, by Monday.
For the last several days, temperatures have been in the high 90s and near 100 degrees, and were considered "hazardous," by the National Weather Service.
"The fire was burning during the night time as though it were the day time," McLean said.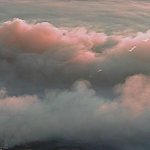 But Wednesday's conditions were substantially cooler and should continue that way through the weekend. By the end of the week, temperatures should drop to the 60s and mid-70s, according to the NWS. Meteorologists were even predicting some light rain on Sunday and Monday.
[NATL-BAY] Photos from Fire in Santa Cruz Mountains
That should be great news to the nearly 1,100 firefighters who were working furiously to protect the 300 homes and communication towers that stood in the fire's path. As of Wednesday, one home was destroyed and one was damaged, according to Cal Fire. Six other outbuildings were also destroyed.
The NBC Bay Area helicopter flew over the fire early Wednesday morning, capturing plumes of gray smoke billowing against the dark blue sky. The smoke drifted miles away, prompting the San Jose Unified School District to require principals to keep students inside for the day due to possible health risks.
The fire broke out Monday about 3 p.m. at the southern edge of Santa Clara County off Loma Prieta Road and Loma Chiquita Road, 20 miles northwest of Morgan Hill. The cause is under investigation.
This is the fourth significant wildfire to rock the area in 14 years: The Croy Fire erupted in 2002, the Summit Fire broke out in 2008, and another Loma Fire burned in 2009.