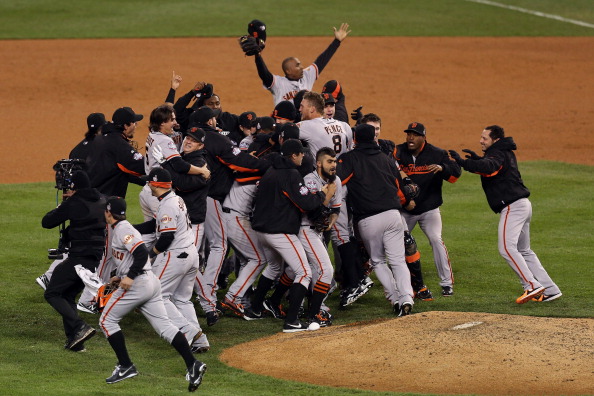 The Baseball Hall of Fame in Cooperstown New York will open its exhibit honoring the World Series Champion San Francisco Giants on Friday.
For the next year, baseball fans from across the country and around the world will gaze on things like the spikes worn by Matt Cain, a baseball cap worn by Brandon Crawford and a jersey worn by Ryan Vogelsong.

Those are among the artifacts the museum acquired from the team during their four game sweep of the Detroit Tigers.

The Hall of Fame will also salute the team with a special program that will be announced next spring.

The exhibit will be open until this time next year, when the 2013 World Series Champion display goes live.

The area of the museum where the items are displayed is called "Autumn Glory."
It has all kinds of artifacts including Don Larsen's cap and Yogi Berra's mitt from Larsen's 1956 perfect game; Bill Mazeroski's (1960) and Joe Carter's (1993) bats from their Series-ending blasts; the jersey David Freese wore when he hit his game-winning home run in Game 6 in 2011; and World Series rings from the last century of Fall Classic competition.

The National Baseball Hall of Fame and Museum is open seven days a week year round, with the exception of Thanksgiving, Christmas and New Year's Day.

Artifacts donated by the Giants and featured in the exhibit celebrating the 108th World Series include:
The bat used by Pablo Sandoval to hit the first two of his three home runs in Game 1, tying a World Series record held by Babe Ruth, Reggie Jackson and Albert Pujols.
The jersey worn by Ryan Vogelsong, who tossed 5 2/3rd shutout i

nnings en route to a Game 3 victory.
The warm-up jacket worn by manager Bruce Bochy throughout the World Series.
The fielder's glove used by Gregor Blanco throughout the 2012 regular season and postseason.
A bat used during the World Series by Hunter Pence.
Spikes worn by Marco Scutaro throughout the postseason.
Cap worn by Brandon Crawford during the postseason.
Spikes worn by Matt Cain during the World Series.