Monica Brinkerhoff was crushed.
At last sight Monday, flames were licking the Santa Rosa house she shared with her wife, Sam Brinkerhoff. But when the family returned to Coffey Park two days later, only a smoldering husk remained amid an apocalyptic scene.
"I think I needed closure," Monica Brinkerhoff said. "I honestly started crying after I got through the shock of seeing the house. I wasn't mentally prepared for it, and I was really defeated at that moment."
Just then, Sam Brinkerhoff discovered a severely singed jewelry box under debris and ash.
Inside was the pair's engagement rings, burned and blackened but still intact. The women, who are expecting their first child, could even make out the heart engravings on one of the bands while a diamond shone on the other.
"The fireproof safe didn't make it, none of the paperwork made it, but the rings did," Sam Brinkerhoff said. "Just for a moment, in the middle of all that devastation, there was a little bit of hope."
Monica Brinkerhoff, who is six months pregnant, was overjoyed. The moment provided temporary relief from the anxiety and worry she had been feeling since the fire broke out, sending the couple and their dogs fleeing.
"We get really emotional when we think about everything we lost," she said. "We bought the house for the baby. We had five years of trying to conceive where we accumulated everything — we had the crib, we had clothes, we had the changing table, we had everything," Monica Brinkerhoff said.
"Now it's gone."
And rebuilding will be a struggle. The pair ran Caring Home Care, a business that provides assistance to seniors in Sonoma County, out of their home.
A GoFundMe page has been set up to help ease the burden. Friends and clients have been rallying around the couple, flooding the page with donations.
"Every day they selflessly help those in need who can no longer care for themselves," wrote Gemma McKenney, a friend who created the GoFundMe for the couple. "Even this morning after they received the news they had lost their home, their main concern was their clients and making sure they were all evacuated."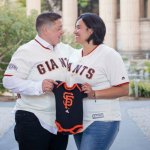 Firestorms raged across a broad swath of the North Bay late Sunday, engulfing trees, homes, and cars and leaving only devastation in its wake. The blazes scorched more than 200,000 acres, claimed at least 41 lives and reduced roughly 3,000 homes and business to rubble.
The Tubbs Fire, which obliterated the Brinkerhoff's home, has scorched 36,432 acres in Napa and Sonoma counties. Firefighters were still working to snuff it out by the following Tuesday.
Thinking back to the night the blazes sparked, the Brinkerhoffs said they had been so focused on escaping their Coffey Park neighborhood as it went up in flames that they didn't think about gathering important possessions.
"I had 10 minutes to get out," Sam Brinkerhoff said. "I didn't even grab my wallet."
Other than their rings, the only thing that is still recognizable is an oversized jar in which Sam and Monica Brinkerhoff collected coins. Now it is melted and mangled, but they're holding onto the keepsake anyway.
Whenever sadness creeps in, Monica Brinkerhoff reminds herself that the outcome could have been much worse. As it stands, her wife and their pets are safe, and so are their tokens of commitment that symbolize their eight-year relationship.
The women say they want to return to Coffey Park when it is rebuilt in the years to come. Until then, they will be staying in a temporary rental.
"It gives us peace knowing that our baby is going to have a stable home and that we won't be moving around," Monica Brinkerhoff said. "And we've had such strong support from the community. People have been so generous. We don't feel alone in this, and that means a lot."