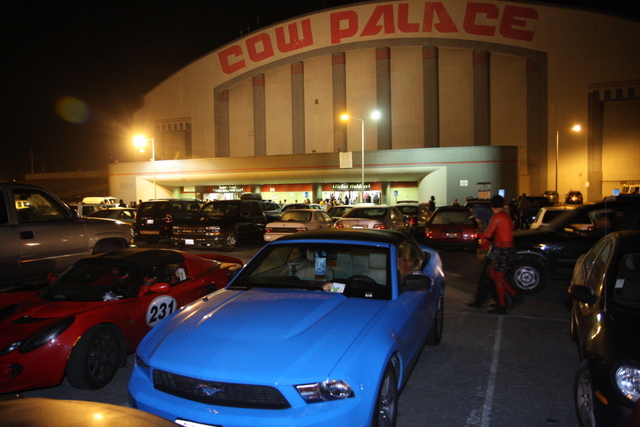 There was a time when the Cow Palace, a cavernous exposition hall built near San Francisco's old beef slaughterhouses, was a revolving door for the country's most famous personalities.

Within a span of months in 1964, the Cow Palace staged Wilt Chamberlain, the Beatles and Barry Goldwater at signature moments in their careers.

But the picture is much different 46 years later. The arena aged and fell into a state of financial disarray and physical disuse. As budget woes paralyzed California lawmakers every summer, the landmark faced threats that it would be shuttered and sold.

The Cow Palace was named for bovines because it was built in the 1940s to hold events such as the Grand National Rodeo.

The arena continues to draw large crowds, but for different kinds of events. Recent spectacles included a "Mortgage Marathon" for struggling homeowners, a cannabis convention for medical marijuana users and a rave in May that turned deadly when two people died and several others were hospitalized for possible drug overdoses. Dozens were arrested for drug-related offenses.

The rave was a tough milestone for an arena that already had a pall cast over it. Gone were major concerts and sports teams and even the annual Ringling Brothers and Barnum & Bailey circus.

"It's a tragedy and it's a tragedy associated with our facility and there's nothing we want less than to have anything like that happen here," said Joe Barkett, the chief executive officer of the Cow Palace.

But he added: "I don't think it's put as much of a tarnish on the venue as I think a lot of people in the media and some of the politicians think."

The event reinvigorated calls from some local officials for the facility to be redeveloped.

"It's unfortunate that it has to take an event like this, which I don't think has any place in the middle of a residential community anyway," said Patricia Martel, the city manager of Daly City. "The problems spill out on our streets."

The Cow Palace, with its arching facade, sits across a boulevard from a tucked-away neighborhood, dotted with single-family homes and a housing project. And it lies near what used to be called Butchertown, an area with agricultural and then industrial roots.

During the banner year of 1964, spectators witnessed Wilt Chamberlain rack up points as a center on the San Francisco Warriors, stoking his epic feud with Bill Russell of the Boston Celtics and putting the first touches on a Hall of Fame professional career in the NBA.

That summer, The Beatles brought the first show of a major United States tour to the venue: It was the first chance Americans had to see the British rock sensations after their legendary appearances on "The Ed Sullivan Show."

Barry Goldwater took to the dais at the Republican National Convention that same year to accept his party's nomination and to declare that "extremism in the defense of liberty is no vice" and "moderation in the pursuit of justice is no virtue."

Owned by the state food and agriculture department, the arena still draws crowds sometimes well in excess of 10,000 for a patchwork of expositions and events with niche appeal.

But a plan to redevelop some or all of the property has gained currency, with local officials clamoring for a grocery store and other amenities in the neighborhood.

"My mother had been living out there," said state Sen. Leland Yee, who represents the area. "She would have to take three or four buses to get to a grocery store and maybe she would have to take a taxi to come back because she couldn't carry the groceries that she would purchase."

Just how to redevelop the area is a question that remains on the table after years of hand-wringing.

The governor proposed selling the arena and other state properties such as San Quentin prison as part of previous years' budget negotiations, but his plan fizzled.

Andrea McCarthy, a spokeswoman for the governor, said Schwarzenegger would be open to selling the arena this year "if there were legislative support."

The state faces a $19 billion budget deficit.

But Barkett does not expect that the state will sell the Cow Palace -- at least not right now. He says it is making enough money to cover its costs and make payments on $450,000 in state debt remaining from its down years. The arena lost an estimated $1.3 million over a five-year period ending in 2006.

"This has died down to a certain extent because the governor's office I don't think is nearly as convinced as it was a year ago that selling off state properties was really going to make much of a dent," he said. "Who knows?"

The Cow Palace is negotiating an alternative strategy: to lease 13 acres of the massive parking lot to SyWest Real Estate & Land Development, a company that already owns some adjacent land, to build retail stores.

Leasing the property will allow the arena to generate more revenue, which Barkett hopes can be used to improve and maintain the arena so it can better compete with the Oracle Arena in Oakland, the HP Pavilion in San Jose and Moscone Center in San Francisco.

"We need to improve these facilities," Barkett said. "We need to upgrade and modernize them."

Copyright AP - Associated Press