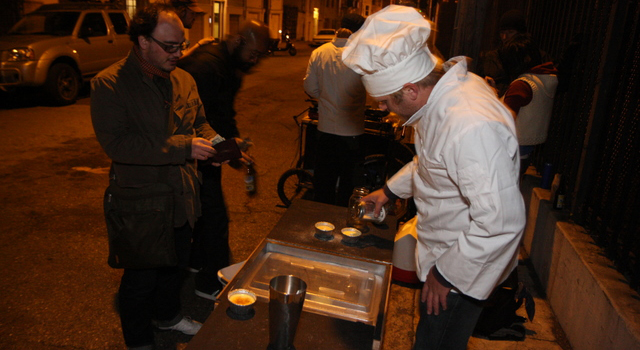 Twitter has officially become the marketing tool of choice for the little guy. Just ask the Creme Brulee Guy.

I "hadn't really understood the purpose of Twitter," he told The New York Times after he added more than 5,400 followers on the San Francisco-based social networking site. "I would love to say that I just had a really good idea and strategy, but Twitter has been pretty essential to my success."

The normally reclusive Curtis Kimball and his Mission street cart business was used as the center piece for a New York Times story about the marketing power of Twitter for small business owners. The Times points out that more small businesses are on Twitter than major companies, such as McDonald's and Coca-Cola.

It seems mom and pop shops across the country have figured out a way to monetize Twitter while expensive suits on Wall Street are still trying to figure out how to turn a profit in 140 characters or less.

"We think of these social media tools as being in the realm of the sophisticated, multiplatform marketers like Coca-Cola and McDonald's, but a lot of these supersmall businesses are gravitating toward them because they are accessible, free and very simple," Greg Sterling, an analyst who studies the Internet's influence on shopping and local businesses, told the Times.

Shamus Booth, a co-owner of Umi, a sushi restaurant in San Francisco, said he sometimes gets five new customers a night who learned about the restaurant on Twitter.

Experts say the intimacy, the direct communication with customers and the the fact that Twitter is free is why so many business owners have turned to Twitter.