Heavy equipment crews rolled up at daybreak on Wednesday in a Daly City neighborhood to resume cleanup efforts where a water main broke causing a mudslide the day before.
The cleanup was going well, with the sun out, but crews feared that rain is soon on the way and will hamper their efforts.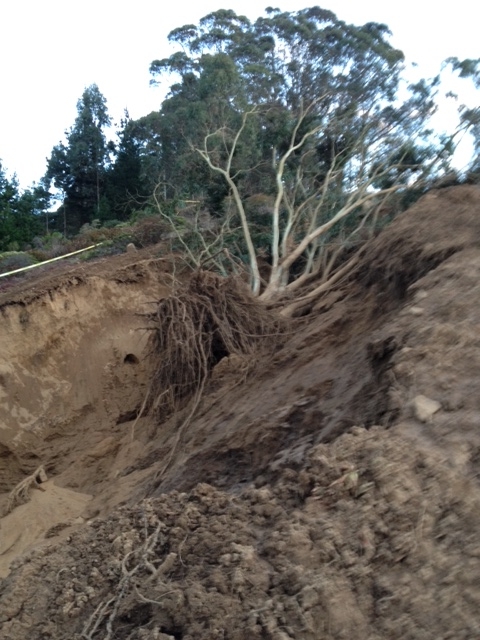 They were busy trying to unstick cars from the mud and patch a gaping hole in the hillside off Lausanne Avenue where a water main broke spilling 45,000 gallons of water, sand and mud. The pipe was connected to a 978,000 gallon water tank at the top of the hill.
The spill forced evacuations and buried cars in mud up to their wheel wells. Some people simply left their cars in place; one car owner left a note on the window that the insurance company would come by to pick up the stuck vehicle.
Hillside Park is at the base of the slide, and crews were busy on Wednesday cleaning out storm drains and cutting a path around the park before the rains come. The park still sits under three feet of mud. Crews plan to suck out the mud with vacuum trucks and lay straw and bales of hay to prevent the mud from spreading in the rain.
After the rain has passed crews are considering using the front loaders to push the mud and sand back into the gaping hole in the hill caused by the slide.

In all, 20 homes had been evacuated because of the flooding down Lausanne Avenue and a handful blocks coming off that street including Bonnie Street, Clayton Court, East Moltke Street, Ford Street and Price Street.
Arturo Romero, a nearby neighbor, said police told him: "You guys better evacuate, the water is coming down fast."
Patrick Sweetland, Daly City's director of public works, said investigators did not know why the 8-inch pipe burst, other than the pipe is "pretty old."