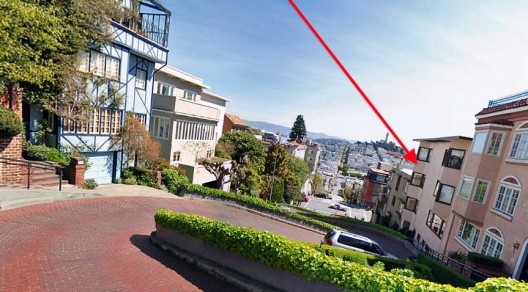 A
The last time we featured a property on the crookedest street tourist magnet was in late 2008.
This particular listing's been on the market for a few months now, and has been steadily dropping dollar signs month by month. The square footage isn't listed, but it's got 2 beds, 2 baths, one parking space, views of the bay and Coit Tower, and — let's be honest — bragging rights to living on that particular Disney stretch of Lombard, plus the unending curse of tourist hordes!
One man who lives on the street described it as:
"I live on the Crooked Street and love it! It's so much fun and there are always unusual things happening. A couple of months ago, they closed the street to turn it into a giant Candyland board game. And the tourists are in a happy mood. I have my garage on the street and cars/people stop to let me out. It's like living on Main Street at Disneyland. In fact, as I pulled out of my garage, someone said, 'Oh, people actually live here!' "
Copyright CURBS