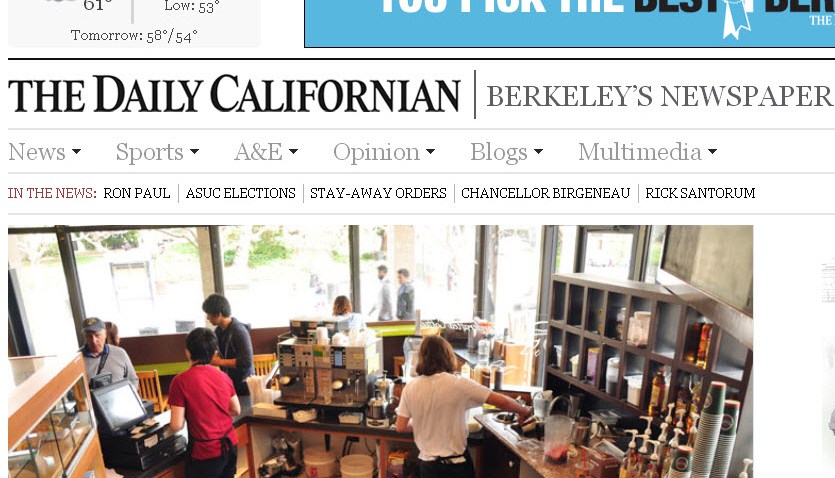 The editor of UC Berkeley's campus newspaper says if the paper doesn't get students to kick in a fee every semester, the staff may have to stop the presses permanently.
The Daily Californian is flailing financially with a deficit of $200,000 with no donations from board members on the horizon. Starting Tuesday, April 10,, students will have the chance to vote on a plan that could possibly save the newspaper from becoming an online-only publication.
If a fee of $2 per semester from each student is approved, it could bring in about $93,000 a year. The plan would remain in place for five years.
"The majority of students understand the reasoning behind this fee and are willing to pitch in a couple of dollars at a time when it's needed," said Tomer Avadia, the Daily Cal's editor in chief. "Now, more than ever."
Avadia said the independently run, non-profit newspaper has been struck by the same problem that most professional newspapers face: a lack of ads.
He said former loyal advertisers fled from the paper to Craigslist and social media outlets. While those businesses are making money, the Daily Cal is sinking deeper and deeper into debt.
Avadia says the paper has cut expenses as much as possible, going from an annual budget of $1 million to $800,000 a year, and it has tapped-out all of its options in terms of securing donations.
"We've nickeled and dimed our way to a much smaller budget," he said. "The possibility of cutting print is likely. It's our biggest cost."
Not everyone agrees with the referendum. An op-ed piece in Friday's edition characterized the plan as "an unethical and unproductive approach to addressing the harsh economic realities all publications currently face."
U.C. Berkeley students can vote April 10-12. Election results will be announced next week.