For her most recent checkup at Lucile Packard Children's Hospital Stanford, 7-year-old Claire Noland arrived from her hometown of San Luis Obispo carrying a favorite doll as well as her latest school writing assignment.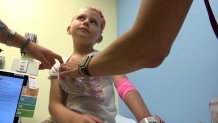 Like millions of other first-graders Noland has been asked to write about what she did over her summer.
"It's the story of when I had cancer," Noland said, handing the papers to her nurse practitioner, Anne Walkush.
Fortunately, Walkush already knew the happy ending to the story. "I beat it," Noland said.
There is, however, one part of the story Noland did not include in her school report, the part that left Walkush and others in awe.
"She is the best person I know," Walkush said.
On the very day after Noland's final chemotherapy treatment in early July, after 6 grueling, nauseating months, her parents offered Noland the chance to do whatever she wanted to do, go wherever she wanted to go.
It could have been a trip to the beach, to the park, or even to one of Noland's favorite places: the nearby American Girl Doll Store.
Noland said, "No," to all of them.
"I kind of wanted to go back to the hospital," Noland said. "I wanted to spread joy to the patients there."
"She thought, 'There's still kiddos there and I know what that feels like,'" Noland's mother, Lindsey, said. "She said, 'I want to bring them joy.'"
Noland decorated a handful of signs with inspirational slogans and then returned to the same floor where she had felt so sick for so long to hopefully make other patients feel better.
"I just like making other people happy," Noland said.
Noland was diagnosed with Stage 4 lymphoma in February. It was an aggressive cancer that required an equal response: six aggressive rounds of chemotherapy.
The treatments often left Noland barely able to get out of bed.
Still, Lindsey Noland said her daughter faced the entire ordeal with a positive attitude and a smile when she had the energy to muster one. Doctors determined that Noland was cancer-free on July 25th.
The decision to return to the hospital after her treatment may seem surprising to some but for those who know Noland the best, it made perfect sense.
"She loves everybody. She loves spreading joy. You can feel that," Walkush said.