The roomful of historic maritime murals hadn't been seen in its glory for nearly four decades — even though it sat in a popular San Francisco museum — deteriorating just a floor above the models of wooden ships and mementos of the city's seafaring past.
Now, more than 70 years after they were first painted by artist Richard Ayers — and subsequently destroyed by neglect and abuse — preservationists are toiling away in the museum's rarely-visited second floor to slowly restore the quirky murals to their original condition.
"Basically the murals were treated more or less as any wall surface," said artist Anne Rosenthal, who is performing much of the restoration.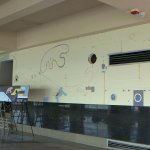 The murals were painted in the San Francisco Maritime Museum, which was originally built as a bathhouse, as part of a federal works project in 1939. They featured abstract nautical themes with fish, ship parts and relief designs that even covered the rooms pillars — echoing the bay sitting just beyond the room's vast windows.
The building was later converted into a National Parks museum but the murals apparently weren't considered irreplaceable. Holes were drilled into them to mount display cases and eventually they were painted over as the room was partitioned into smaller rooms.
"I don't think a lot of people knew this room was up here, they certainly didn't know it had murals in it," said Todd Bloch, a National Park architect overseeing the restoration. "So even if people did come up here when it was a maritime museum here, they would have no idea the murals were here underneath all this paint."
Rosenthal and Bloch are now trying to reverse 70 years of destruction in an attempt to restore the grand room's quirky art to its original condition. Rosenthal is repairing and repainting parts of the mural that are visible, and uncover the parts that aren't.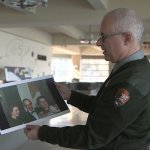 "This is one of the major monuments in San Francisco that's never been seen authentically," said Rosenthal, who led the restoration of Coit Tower's storied WPA frescoes.

Recently, Rosenthal sat perched atop a scaffold, touching up a relief of a ship's smoke stack with tiny brush strokes so fine they were barely visible. Across the room, her husband Michael Wolf scraped at the room's long wall, revealing patches of the original paint underneath. Wooden fish protruded from the wall near a design of ship's rivets that had to be partially replaced.
A lack of photographs has required Rosenthal and Bloch to don detective hats in a search for clues as to what "original condition" actually meant.
An unadorned pillar that had been re-painted white over the years proved to be the thorniest of the preservation — no one had any idea what had been there before. But a ghost from the past turned up a valuable clue.
A newly digitized color video surfaced of U.C. Berkeley's graduating class of 1919 holding its 20-year reunion in the room — the very year the building opened.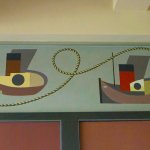 Bloch captured several still shots from the video, which showed scant details of some of the art. One particular image showed the mystery pillar with what appeared to be a cutout of a shark — matching a pair of wooden sharks in the museum's collection. The cutouts fit perfectly on the column.
"We're pretty confident that that's where these fish were," Bloch said.
In another instance, Bloch said a worker peeled back a wood panel over one of the room's doors to reveal a colorful painted tugboat matching one on the adjacent door.
"We're pretty confident now that we're going to have it restored to 99 percent of what it was like when it was opened," said Bloch, who acknowledged the restoration is still going to take many months.
A silver chandelier shaped like a ship steering wheel hangs over the room, and the room's door handles are also shaped like a ship's wheel. A wall full of windows faces out onto the bay and the docks where the historic Balclutha wooden ship gave a hint to the city's maritime past.
"These murals don't really tell a story of the city or people, they're really just representing what you would see outside of these windows," Bloch said. "The ultimate goal is to showcase it again as it was intended to be seen in 1939."