The suspect connected to a sexual assault investigation at San Jose State University allegedly put one man in a chokehold and reportedly sexually assaulted another man while the victim was "black out drunk," according to a report.
Fourth-year student Luis Venegas, 21, faces five felony charges related to the alleged attacks involving two men on the South Bay campus.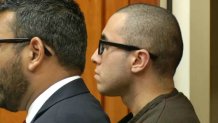 Venegas was arrested on March 5, two days after he allegedly made sexual advances on a friend in Campus Village A, university police said.
According to the Mercury News, when the friend resisted, Venegas allegedly tried to choke him from behind. The friend fought back and called law enforcement.
Venegas allegedly sexually assaulted another friend in the same dormitory back in 2014 and 2015 when that friend was "black out drunk," according to the Mercury News.
The victim reportedly became suicidal once Venegas told him of the assault and was initially too ashamed and too afraid to speak with investigations, the Mercury News reported.
A judge on Thursday denied Venegas' request to be released on his own recognizance. His bail remains at $210,000.
Anyone with information is asked to contact campus police at 408-924-2222 or Sgt. Justin Celano at 408-924-2218. People can also submit a report anonymously through TipNow at 408-337-2919 or sjsu@tipnow.org.