The parents of a Dodgers fan fatally stabbed during a fight with Giants fans made a public plea Sunday for witnesses who saw the incident to come forward.
Robert Preece, who is the father of stabbing victim Jonathan Denver, spoke outside AT&T Park before Sunday's San Francisco Giants game against the San Diego Padres.
He and family members spent the day passing out fliers near the ballpark to passersby, seeking information about the stabbing that they might be able to pass along to police and prosecutors.
"Losing a child is a heartache no parent should have to endure," Preece said, his arms wrapped around his son, Robert, and sister, Jill. "I'll always cherish the time me and my son spent here at the game.
"More than once that night Jonathan told me how much he loved me, and that will remain the most cherished memory for me."
Preece decided to speak publicly after the San Francisco district attorney released the suspect in the killing because of a lack of evidence.
MORE: Bottles Fly in Post-Chargers vs. Cowboys Game Brawl
Preece works security for the Los Angeles Dodgers and lives in Alhambra, Calif. He was at the game with his two sons who were there to celebrate his birthday.
Denver's mother, Diana Denver, also had a prepared statement, but after a brief attempt to read it, she deferred to Preece's sister, Jill Haro, who read it on her behalf.
[The complete statement can be read here]
The suspect in the case, Michael Montgomery, was released from jail Friday night.
District Attorney George Gascon said police had insufficient evidence to charge Montgomery, a 21-year-old from Lodi, in connection with Denver's death. Specifically, Gascon said police had not spoken with any independent witnesses who may have witnessed the fight Wednesday night.
After Montgomery's arrest (but before his release) San Francisco Police Chief Greg Suhr said Montgomery made "incriminating statements'' that led to his booking the night after the stabbing.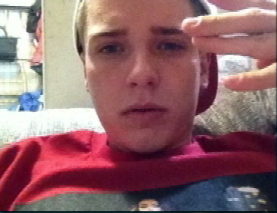 Suhr said Denver, 24, was with his father, older brother and two other people a few blocks from the Giants' ballpark when they exchanged words with some Giants "The back and forth, 'Go Dodgers!' 'Go Giants!''' Suhr said. "And it deteriorated from there.''
Montgomery's parents told NBC Bay Area on Friday that their son claims the killing was in self-defense.
Montgomery's mother, Victoria Montgomery, says her 21-year-old son was "freaking out" about what happened when a rivalry-fueled fight turned fatal late Wednesday night.
"My son says he was hit with a chair," Victoria Montgomery said. "He was just trying to defend himself. He is in shock."
Denver is about 6 feet 3 inches, and Montogmery is about 5 feet 8 inches, his mother said.
MORE: Arrest Made in Dodgers Stabbing Death
MORE: Son to Celebrate Father's Birthday at Dodgers-Giants Game
On Saturday, some of Montgomery's neighbors were speaking out.
"I think that they should have got more evidence before they arrested him in the first place," Diana Brackett said.
NBC Bay Area Legal Analyst Steven Clark said the fact that Montgomery was released does not mean he could not later be re-arrested and charged.
"What's key here is interviewing all of the witnesses and seeing if there's independent witnesses who do not know these two," Clark said.
Clark also said finding the main aggressor in the case is important.
"The key to the case is who was the initial aggressor," Clark said. "Before you can use deadly force, you need to believe that your life is in danger, and you have no duty to retreat--and you can then use deadly force."
The stabbing was the latest in years of incidents stemming from one of the most passionate rivalries in American sports.
Two years ago, Giants fan Bryan Stow suffered permanent brain damage when he was attacked in Los Angeles. There was a moment of silence for Denver before the Dodgers hosted the Colorado Rockies on Friday night.
"I just can't understand how, sporting event aside, society's gotten like this,'' Giants general manager Brian Sabean said Friday. "It's bizarre to me.''

Statement from Diana Denver, Jonathan's mother.

"My family and entire community are outraged at the following issues. The media portrayal maligning my son's character. They've made untrue statements about his life that are intended to create bias and are completely irrelevant. Please remember he was the victim. The negligence of our justice system. The alleged perpetrator was released from jail less than 48 hours after my son was fatally stabbed, yet Jonathan is gone forever. We would like to thank the Fort Bragg community for their overwhelming love and support they have shown our family. Finally I would like to briefly describe who Jon really is. He was universally well known and loved in his small community, Fort Bragg. He was loving caring and kind. He was always there for friends and family. His laughter was everything and what a smile he had. Jon was a great friend, never passing judgement and consistently treating others with dignity and respect. He loved his dogs, disk golf and his brothers. He was peaceful, down to earth and a gentle soul. Not only did they live together, he and his brother were inseparable and the best of friends and always there for each other."
Copyright AP - Associated Press