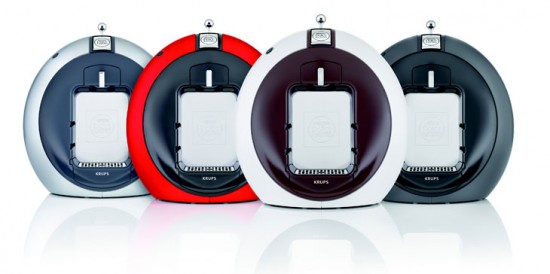 With a coffee shop on every corner, it's easy to see why a coffee maker has to do something to stand out and make folks want to just stay home for a cup o' joe.

The Nescafe Dolce Gusto capsule coffee maker has a look that matches the status that coffee has achieved these days — elegant and attractive. It's from coffee-maker giant Krups, and will retail starting at $220. Sounds like a lot, but add up your Starbucks spending, and it can easily pay for itself in a month or two.

Capsule coffee makers get you a perfectly measured cup each and every time, right into your favorite mug. The difference with the Krups design is that you'll want to show it off on your countertop. It's sleek design would easily spruce up your cubicle at work.

No need to give up your mocha latte to save money. With available flavors ranging from Latte Macchiato to Chocochino, this new Dolce Gusto machine gets your java fix in style.
Copyright DVICE - DVICE