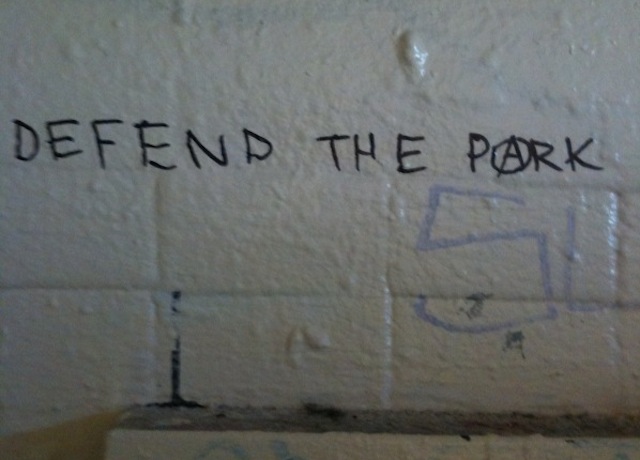 Tensions are high at Dolores Park, from high up on the Fruit Shelf to all the way down on Fixed-Gear Flats.
A multi-million dollar renovation of the park sounds like a great idea -- its aging sprinklers, mortifying bathroom, and unfabulous playground are sorely in need of attention. But does that mean the the park will be off-limits during construction?
Uptown Almanac was initially told that the entire park would close for a year and a half. But a Dolores Park Advocacy group reports that it'll happen in phases.
Following a public outcry, Parks & Rec hired an expensive PR firm to placate community members; since then, tensions have simmered somewhat, with only periodic flare-ups in the form of angry graffiti.
Youngsters are keeping abreast of the situation the only way they know how: with a Facebook group, on websites, with blog posts, and on other websites.
Nervous trend spotters need not fear for a summer without a popular park, however in the event of an emergency, Potrero del Sol has already been declared the successor to Dolores.
Copyright FREEL - NBC Local Media